10 reasons why you need to live at Inverlyn Lake Estates
By Lucas on Oct 05, 2015
In Bruce County on the shores of Lake Huron, Reid's Heritage Homes is building an incredible four-season community called Inverlyn Lake Estates. There are countless reasons why you should consider living at Inverlyn Lake Estates, but we're going to go ahead and list 10 for you.
1) The amazing location
Kincardine is an historical municipality with a strong Scottish heritage, and the community is nestled between two lakes. We don't think we've ever seen any new community with access to two separate bodies of water on either side of it. Inverlyn Lake Estates' location near the quaint downtown of Kincardine and the water allows for an active, healthy lifestyle year round!
2) The appealing selection of homes
Inverlyn Lake Estates features a selection of detached bungalows, ranging from 1,484 to 1,767 square feet with two- and three-bedroom floor plans available. The subtle, traditional designs complement the historic atmosphere of Kincardine, and there is a slight cottage feel for those who are looking for a weekend home.
3) The affordability
Prices are starting at just $290,900. Doing some quick math, that equals under $200 per square foot! When was the last time you saw a detached home selling for a price that low?
4) The high quality standard features
Just because the price point is affordable doesn't mean you're sacrificing style or quality. Some of the features and finishes at Inverlyn Lake Estates include 9' main floor ceilings, some homes have cathedral ceilings, hardwood flooring, ceramic tile, and double garages with convenient storage.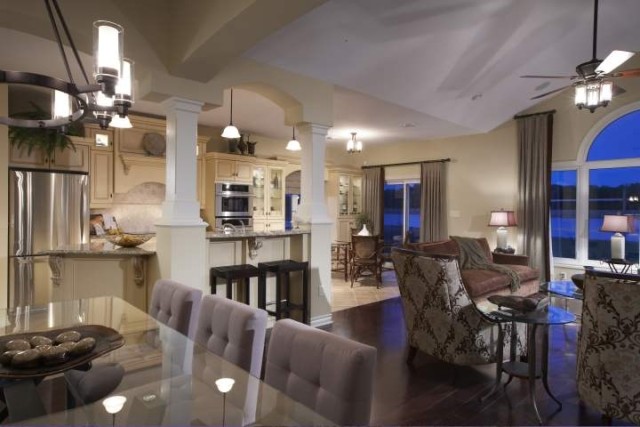 5) The eco-conscious features
Reid's Heritage Homes is a leader in environmentally friendly home designs that are actually affordable for homebuyers. All of the homes at Inverlyn Lake Estates are ENERGY STAR qualified, featuring high efficiency furnaces and heat pumps with air conditioning, and air handlers for improved air quality.
6) The community has incredible amenities
There is a community centre that features a gathering hall, a games room, a card room, an exercise room, a family occasion room, and a full kitchen for hosting special events. There is even a woodworking shop, RV storage, a dog park, and an access trail to Lake Huron. Also, the surrounding 90 acres of woodland offers a number of trails for hiking, cycling, and cross country skiing.
7) Discounts at local golf courses
Ainsdale Golf Club is a pitch and a putt away. These 18 holes of rolling terrain along the shore of Lake Huron will surely put your skills to the test, and you can hit the links as much as you like thanks to a generous discount offered to Inverlyn Lake Estates residents!
8) The exquisite surroundings
In addition to the surrounding woodland and golf courses, the homes are nestled on the edge of a beautiful 23-acre inland lake, with walkways and bridges that lead to a gazebo and other lounge areas. There is also an outdoor saltwater pool, which is much healthier for your skin than your typical chlorinated pool.
9) All the cultural events in Kincardine
There are many community events in Kincardine, such as the Summer Music Festival, annual Scottish Festival & Highland Games, and Scottish Pipe Band Parades. There are also a few cultural venues, including art galleries, a museum, and a theatre.
10) The special bonus offer
Until the end of October 2015, Reid's Heritage Homes is offering a special bonus offer at Inverlyn Lake Estates. If you purchase before the end of October, you will receive 50% off your kitchen design upgrades, up to a max retail sales value of $15,000. This offer applies only to new homes to be built.
For more information about the available homes at Inverlyn Lake Estates, visit ReidsHeritageHomes.com.