10 Steps to Make More Money Selling Your Home
By Jo-Ann Capelaci on Jul 28, 2015
Are you excited about moving into your new home but anxious about selling your current one? If so, you are not alone. Selling an existing home can be a stressful time. I have created a ten step checklist to help you sell your home quicker and for more money.
   Curb appeal
First impressions are important! Paint the front door if necessary. Keep walkways cleared and yards maintained. Add some greenery at the front door.
Via Pinterest
   Clear the clutter
You need to pack up clutter to move anyway. Why not do it now and make your home look bigger and better? Sort, box-up, purge, donate or throw away things, leaving surfaces like counters, dressers and tabletops clear. Organize toys and office spaces.
Via Pinterest
   Relocate excess furniture to the garage or storage
Too much furniture or bulky furniture can make your home look small. Do you have extra dressers or old televisions in your rooms that you are not using? If you are not bringing excess or outdated furniture to your new home, now is the time to sell or donate it. Otherwise, store excess furniture that blocks walkways or crowds rooms elsewhere until you move.
   Organize your closets
All closets should be no more than 2/3rds of their capacity. I often go into homes where the closets are overflowing. This can cause a prospective homebuyer to think that the house does not have sufficient storage. Again purge, donate, sell etc.
Via Pinterest
   Kitchen, baths and flooring should be sparkling clean and odour free
Can you imagine how great it is going to feel walking into your brand new home? Similarly, people who purchase resale homes are attracted to clean, well-maintained homes. Have the carpets, tile, hardwood and grout cleaned if necessary. Don't mask odours with artificial scents. For many people this can be a turn off. Clean the windows too!
    Hang clean towels in the bathrooms.
If necessary, purchase some new towels or shower curtains. White is almost always a good choice. This is a small investment and it will be worth it!
Via Pinterest
   Whenever possible, eliminate patterned sofas and bedding
Again, white or off-white is almost always a good choice. It looks clean and fresh. Consider purchasing a white duvet cover to put over or replace an outdated bed covering. The idea is to appeal to as many people as possible.
Via Pinterest
   Remove outdated wallpaper and keep paint colours current
Leaving outdated wallpaper for the next person to deal with is almost never a good idea. Unless you are selling a fixer-upper, most people will not want to do a lot of extra work and the price they are willing to pay will often reflect what needs to be done. Paint colours are best if neutral, but colourful paint can be fine as long as the colours are current. Add a fresh coat of paint if walls are marked up or outdated. A room painted ten years ago will make your home look older than it is.
   De-personalize
Remove family photos and religious articles. Your prospective buyer will want to visualize themselves in your home and it is easier to do so if it is void of your personal items. Do your best to remove your emotional attachment to your home.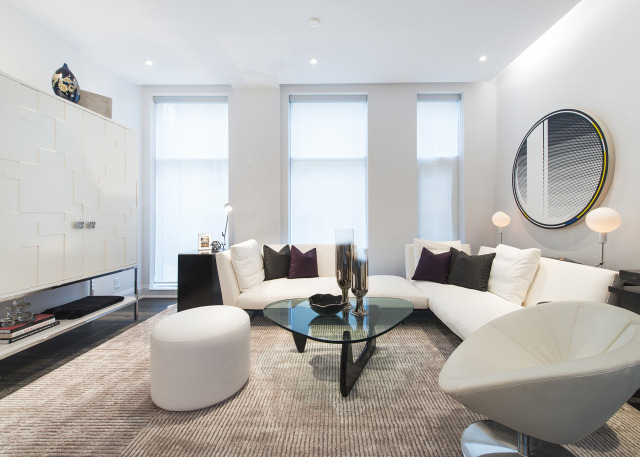 U Townhomes Via Pemberton Group
  Remove outdated window coverings
If a window covering looks outdated then remove it. Open the windows to let in fresh air when possible. Also, open blinds or curtains to let in natural light (as long as it doesn't showcase an unattractive view).
Start this process by doing one room at a time. That way you will feel good about what you have accomplished as you are moving through your home. Get your children and family involved. If your kids pack up some of their toys they will be excited to see them again once you move into your new home. If you choose to sell some unwanted items you can use that cash to purchase items for your new home. Or if you donate to charity you will feel good about helping others. And you will be much more prepared to move when the time comes!
Jo-Ann Capelaci is president and principal interior designer of Colours & Concepts. The company specializes in model homes and colour and upgrade selections for builders. They have been helping new home buyers choose finishes for their homes for over 20 years. Jo-Ann is dedicated to helping new home buyers create a model home feeling in their new home. Look for future articles on other topics to assist in decorating and designing your new home.