2 Designer Terraces to Inspire Your Private Outdoor Retreat
By Jo-Ann Capelaci on Mar 18, 2015
Toronto, it has been a harsh winter! I am fortunate to have the privilege to live and share time in both the GTA and Southern California. Recreational activities that happen outdoors, whether in cold temperatures or warm are part of my busy lifestyle. Therefore creating outdoor spaces and bringing the indoors out is a design element I am passionate about. With the onset of warmer weather, are you ready to start preparing for Spring?
New home builders are thinking more about (or should be) creating additional ways for their home buyers to enjoy the outdoor areas of their homes. Such is the case with Geranium Homes' Uptownes in Stouffville where we designed two fabulous outdoor terraces. We designed these private, compact spaces for maximum benefits of varied activities, including entertaining. The addition of a fire-pit in one unit and an outdoor fireplace in the other unit extends the opportunity to enjoy more time outside. Retailers now offer many heating options in varying prices to warm up your outdoors.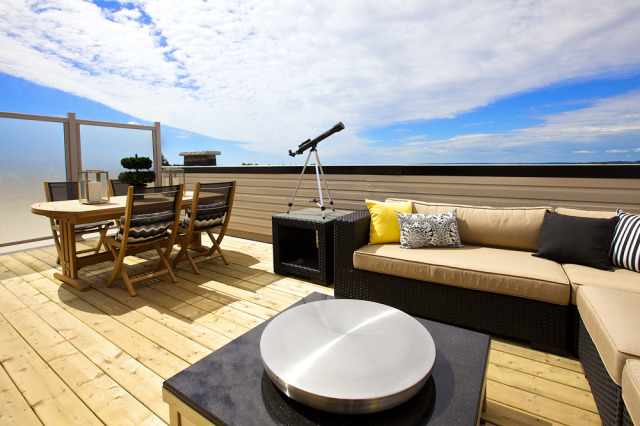 You'll want to consider coordinating your home's personal style in your outdoor spaces. For example, in one terrace we continued our colour palette of black and white, with yellow accents. We specified an outdoor sectional sofa that allows room for entertaining or to curl up with your loved one for a romantic evening under the stars. And speaking of stars, we added a telescope to explore the nighttime sky. Incorporating your hobbies in outdoor spaces can also enhance your outdoor experience. The dining table chosen in this contemporary inspired patio is compact for everyday use and expands when entertaining. You really can have it all, even in a compact space, if it is well laid out! Check out the short video showing our design scheme:
On the other terrace, we continued the feeling of nature that was evident indoors. We used outdoor furniture made with durable ipe wood for lasting beauty. The comfortable seating was accented with bird themed cushions. Other accessories continued to reflect the mood of a cottage retreat. We even used an outdoor rug to frame the seating area. Outdoor rugs are so durable now that most you can even hose off. This short video showcases the design:
If you want to get a kick start of inspiration and discover many of our resources for these two outdoor terrace options, you can find them on our Pinterest boards: Terrace 1 and Terrace 2.
Jo-Ann Capelaci has over 20 years experience in the interior design industry. She has become well known in the homebuilding industry for her unique model home designs, high quality digital renderings, and intuitive space planning. For more information, visit www.joanncapelaci.com.