4 things you need to know about The Logan Residences in Leslieville
By Lucas on Mar 10, 2017
While we await details about the suites at Daniels' latest Toronto condo, The Logan Residences in Leslieville, we have a few more reasons why you should get excited about this new development!
The six-storey boutique condo is planned for Queen Street East and Logan Avenue in the heart of the burgeoning Leslieville neighbourhood. WalkScore.com gives the address a Walk Score of 96 out of 100, labelling it a Walker's Paradise because you don't need a car to complete daily errands.
With the 24-hour Queen streetcar right outside the front doors of The Logan, the Transit Score is 95 and if you prefer getting around on two wheels, the Bike Score is 92 thanks to the flat terrain and nearby bike lanes.
Yes, The Logan is surrounded by shops, cafes, parks, art galleries, grocery stores, and restaurants, but we're not even counting that as one of the reasons to be excited about the development. The location is amazing, that's a given.
Here are four reasons why The Logan Residences is the talk of the town:
1) The retail survey
We just mentioned that The Logan is surrounded by a wealth of amenities within walking distance. Well, now you have a say in the new retail that will be going in on the ground floor.
Daniels is asking prospective purchasers and locals what kind of retail the street needs. The options include a grocery store, restaurants, coffee shops, services like postal or dry cleaning, medical services like a clinic or dentist, or child care facilities such as a daycare or preschool. Homebuyers rarely have an opportunity to have a say in the retail going into their new building, so
take advantage of this opportunity!
2) Urban agriculture  
Daniels is known for their urban gardening initiatives in their new condo developments. It's a way for neighbours to come together and enjoy the outdoors. Including gardening plots as an amenity is an amazing way to create a deeper and stronger sense of community within the building.
The Logan's gardening plots
will be on the rooftop.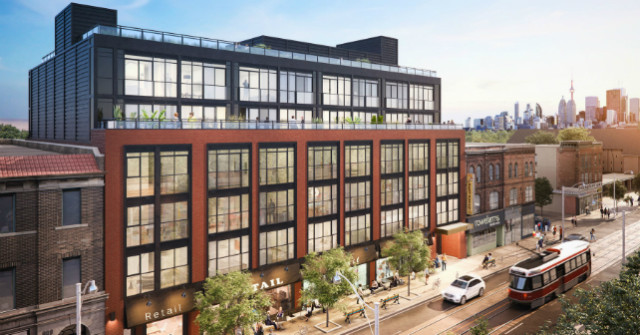 3) The Logan Residences Signage Initiative
Up until the end of March 2017, Daniels is accepting photos of your favourite spot or pastime in Leslieville. The photos will be used on The Logan signage around the site, which has been dubbed the "I Love Leslieville" photo wall. To upload your photos,
click here!
4) The Local Art Program
Daniels is no stranger to supporting the local arts, from engaging the Regent Park Community to building an entire art-inspired development on the waterfront. At The Logan,
The Local Art Program
will involve commissioning and sourcing artwork from local emerging, mid-career, and established artists. The art will be installed in public spaces throughout The Logan.
To stay updated on The Logan Residences by Daniels, register here!