5 new home communities for empty nesters
By Lucas on Jul 24, 2017
It's been a while since we shared a collection of new home communities for empty nesters. As Ontario's housing market takes a breather and more high density communities are being built outside of major urban centres, there are many options for empty nesters.
It's interesting how the definition of a community for an empty nester is starting to blend into what first-time buyers and millennials look for in a new home. Walkability, convenience, maintenance, and affordability are top concerns for both. So, while this list is geared more towards empty nesters, keep in mind that there could be options for first-time buyers within these communities.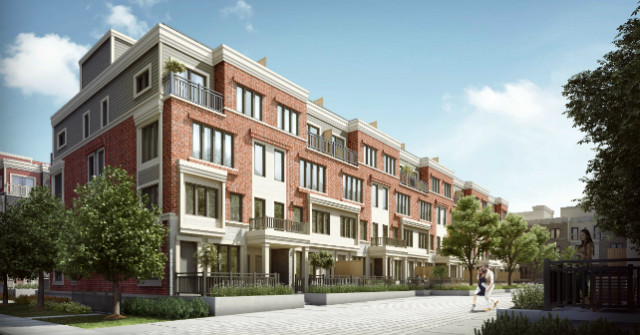 Minto recently announced that this is your final opportunity to purchase at Longbranch 2. This energy efficient community of stacked townhomes is located near Long Branch GO Station and is steps from the Queen streetcar.
The units range from 981 to 1,357 square feet - not too big, not too small. Empty nesters will love the waterfront location and the low-rise condo lifestyle, meaning the condo fees cover exterior maintenance.
Ashley Oaks Homes recently opened a new collection of condo townhomes in Brampton. These luxury homes are for empty nesters looking to retire in style. Block 3 may not be the best for empty nesters though because they are three-storey models. The other blocks are two-storey though!
This all-season resort style community is being built on the shore of Lake Simcoe. There are modest residences available and ultra-luxury units. The Aquarius condo building has units from the $300,000s while the Ferretti Towns, which are located right on the water's edge, start at $1.5 million. A new marina was built for the community and there is also a new golf course under construction.
Located in The Beach neighbourhood at Queen and Coxwell, WestBeach is within walking distance of Woodbine Beach and all the shops and cafes along Queen. There are definitely empty nesters living in a low-rise home in The Beach right now that want to stay in the neighbourhood, but need/want a smaller home. This option is for them!
Here's another Innisfil community ideal for empty nesters! RADIANCE isn't right on the water like Friday Harbour, but it's still really close to the lake, and is a bit closer to the town's main strip.
"RADIANCE is registering lots of interest locally as well as from people residing in many areas of the GTA and we are confident that our layouts will have broad appeal," says Moninder Khudal, CEO and President, DIAM Developments. "We expect these homes will be purchased by first-time buyers, professionals, families and empty nesters looking for a modern take on townhome living."
We hope this list of new home communities for empty nesters helps you or your parents find the right place to call home!