6 tips to give your home beautiful autumn curb appeal
By Contributor on Oct 19, 2017
The kids are in school, and Thanksgiving has come and gone – autumn is officially in full force in Canada. While the spring and summer markets tend to be considered the hottest real estate buying seasons, September through November ushers in a crop of especially motivated buyers; those who are looking to purchase a home at this time of year generally wish to wrap up their purchase before the snow flies and the holiday season sets in.
That's great news for those looking to list their homes in the autumn – but unlike in the warmer months, when home showings benefit from beautiful weather and full-bloom gardens, it can be a challenge to display your home's external attributes when nature turns drab.
Here are a few ways sellers can improve their home's autumn curb appeal.
1) The grass is greener
Nothing shows pride of ownership more than a lush lawn – and one of the benefits of slightly cooler weather is your grass will thrive, turning a deep, emerald green with nary a parched patch in sight. Take advantage of peak lawn season before the frost hits: ensure fallen leaves are raked daily, and set grass up for spring success with a fertilizer treatment.
2) Invest in seasonal foliage
Come October or November, warm-weather flowers tend to wither and vegetable gardens are post-harvest. However, it's still important to show that your garden is more than a dried dirt patch.
Autumn is the perfect time to decorate with large potted seasonal foliage. Chrysanthemums, in particular, are a popular go-to, for their large variety of colours and ability to weather colder nights and reduced sunlight.
Shrubbery that provides height variance, such as Russian sage, goldenrod, or even dried wheat bundles add an interesting dynamic to temporary fall landscaping – and never underestimate the appeal of potted succulents!
3) Avoid holiday décor
BOO-hoo-hoo indeed – you won't win over any prospective buyers if your lawn is haunted by Halloween décor. Leave the faux gravestones, repurposed bedsheets and Jack Skellingtons for next year – or at least remove any rotting pumpkins once the trick or treaters have cleared.
4) Add pops of colour
It's amazing what a fresh coat of paint can do! Giving your front door an eye-catching hue can be a great way to draw in buyers (red, robin's egg blue, and navy are particularly popular), but your new palette doesn't need to be permanent. Placing a bright chaise or pottery on your front porch – or even a Muskoka chair on the lawn – can offer your home a bright and cheery aesthetic even on gloomy days.
5) Do a little hardscaping
Driveways, paths, decks and porches can look a little worse for wear after a season or two. Don't let unsightly cracked cement or weathered wood turn off would-be buyers before they're even in the front door; take the time to re-stain any outdoor wood structures, fill in any cracked brickwork or paving, and replace any chipped pottery and planters.
6) Don't forget small spaces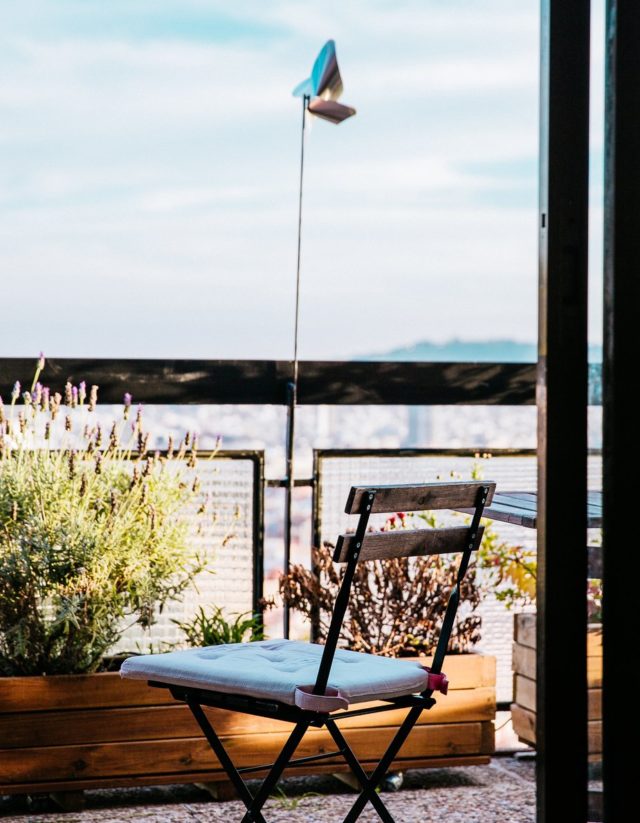 Curb appeal isn't just important for detached homes – condos or townhouses for sale in Toronto can also greatly benefit from outdoor styling. Move any stored items, ashtrays, and evidence of pets off of balconies, and give them a good sweep for cobwebs and other critters.
Temporary balcony tiles – if allowed by the condo board – can dramatically improve the appearance of a cement pad, along with a bright area rug. Add a potted plant and outdoor cushion or two, and your tiny outdoor space will be as charming as in.
Penelope Graham is the Managing Editor of Zoocasa.com, a leading real estate resource that combines online search tools and a full-service brokerage to empower Canadians to buy or sell their homes faster, easier and more successfully. Home buyers can browse Toronto real estate listings, including Toronto townhouses, detached homes and condos.