7 interior design ideas to lower your energy costs!
By Jo-Ann Capelaci on Nov 21, 2019

It looks like it could be a long, harsh winter! Accu-weather predicts Ontario to have cold, stormy weather and Arctic blasts. The GTA can expect significant snowfall. This could be the perfect time to think about saving energy.

Are you looking to lower your energy costs this season? If so, invest a little time reading the seven energy cost-cutting tips below and then get ready to reap the savings!
Insulated drapery
Via Pinterest
Thermal lining added to drapery is an effective way to insulate a room, and it reduces the amount of heat needed to warm the space, therefore reducing your heating costs. The right selection can also dramatically enhance the look of any room. Try hanging curtain rods tight to the ceiling to elongate your room and give the appearance of higher ceilings.
LED lighting
Via Pinterest
Incorporate LED friendly lamps as your main source of light to reduce energy costs. Up to 80% more efficient, LED bulbs come in a variety of options. Although the initial investment is higher, they will save money in the long run and last longer. To maintain a warm winter glow, select a "soft white" or "warm white" to enhance the atmosphere.
Light control motion detectors
A great product to incorporate into your home this winter, or anytime, is a light control motion detector. Light controls allow you to turn on lights, radios, and other appliances when motion is detected. They can be programmed to automatically turn off after a desired time frame. These are terrific options for every household, especially if you find yourself on the go, or have little ones running through the house. Sensors are ideal for closets, laundry rooms, garages and pantries. There are various brands and motion sensor products available to suit every lifestyle.
Energy efficient showerhead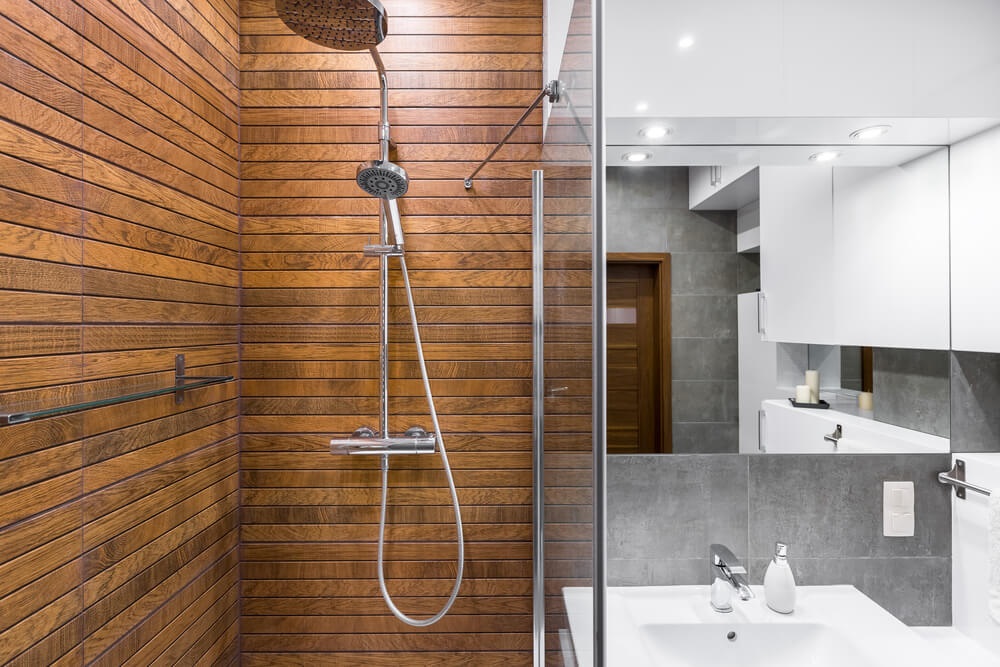 Another energy saving choice is to change your shower head to a water-saving option. Most low-flow shower head options can significantly impact the number of gallons of water used. Depending on your preference, there are a variety of options available with soft trickles or shower heads with various settings to give you the perfect pressure every time.
Wood stove
Via Pinterest
Add a wood stove this season for comfort, design panache, and to keep energy costs down. Wood stoves give off radiant heat, making it more efficient and faster than your average vent system. These stoves are also extremely versatile due to their ability to be placed virtually anywhere you can run an exterior vent pipe. And they will still provide warmth during a power outage! Wood stoves also radiate from all angles, adding warmth to a room.
Smart thermostats
Smart thermostats are a popular home improvement product on the market right now. Use one of the various models and program your thermostat to run according to your schedule. Remote operation helps to reduce the use of energy significantly. Something as simple as turning the thermostat down at night can greatly impact your electric bill, and with these products you don't ever have to think about it! Depending on the product, the devices can tell you when to change your air filter, lock the controls so the device cannot run outside of a specific range, or zone your home for different areas.
Throws for flair and warmth!
Via Pinterest
In the winter months I make sure there is a cozy throw handy in almost every room. If you feel the cold as easily as I do, you may want to do the same. A throw adds softening when designing a space. Another good plan is to add an extra blanket to your bed. Layer bedding to create an attractive bedroom setting. These two simple energy cost-busters will allow you to lower your thermostat while sleeping, sitting or relaxing. You may even find you sleep better in a cool room under your warm blankets.
Wouldn't it be awesome to save money towards a winter getaway? Incorporating these options could substantially impact your energy bill. I hope you are inspired to use one or more of these energy saving ideas. Check out our
Pinterest board
for more motivation!
Jo-Ann Capelaci is president and principal interior designer of Colours & Concepts Inc. The award-winning company specializes in model homes and colour and upgrade selections for builders. They have been helping new home buyers choose finishes for their homes for over 20 years. Jo-Ann is dedicated to helping new home buyers create a model home feeling in their new home. Look for future articles on other topics to assist in decorating and designing your new home.