Alaska Condos in Toronto
By Lucas on Jul 04, 2013
It's been a few months since Toronto got it's first glimpse of Alaska Condos - Bianca Pollak's interesting condo proposal for Yonge St. and Strathgowan Ave. Since it's Architecture Month on our blog and the design of Alaska Condos stands out so much, we figured we might as well investigate the project a little further, and discuss the architects involved, Will Alsop and Quadrangle Architects.
About Alaska Condos
In February, when the Toronto real estate scene was first exposed to the renderings of Alaska Condos, no planning application had gone to the City. Well, since then, the development proposal has been officially submitted.
The plan calls for the demolishing of the existing rental buildings between 2779 and 2781 Yonge St. in order to make way for an 11-storey condo with 130 residential units. The 130 residential units will be a combination of condo units and the replacing of the rental units. Alaska Condos will rise approximately 110 feet and feature ground floor commercial space.
At Yonge and Strathgowan, Alaska Condos is about one subway stop from Yonge and Eglinton, but the lines of shops and restaurants that make Yonge and Eglinton so popular are quickly climbing their way up Yonge to Lawrence Ave. And, with the beautiful Alexander Muir Memorial Gardens running right along the street, residents of Alaska Condos will have access to shops, cafes, and stunning natural surroundings. Don't be surprised when Yonge and Lawrence becomes a super desirable locale.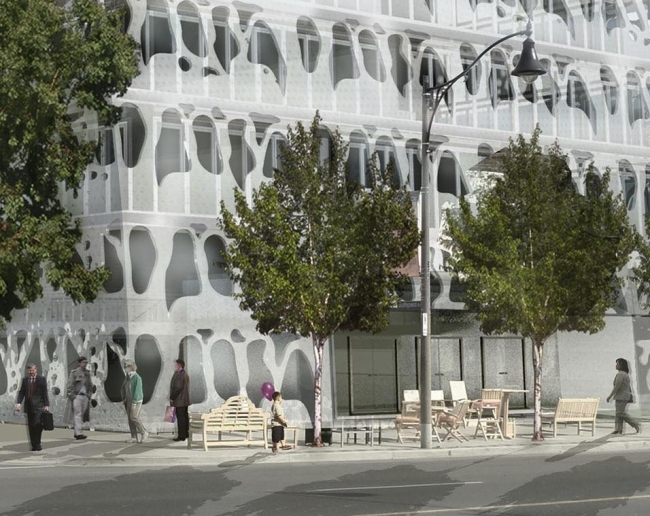 About Will Alsop
Will Alsop is a British architect based out of London. Alsop has designed a number of controversial, avant-garde buildings, mostly throughout the United Kingdom. Alsop's popularity in Canada stems from his design of the Rosalie Sharp Pavilion at the Ontario College of Art & Design (OCAD) in Toronto. Surely you've seen it - it's very colourful and is the only building in Toronto with slanted columns for legs, suspending it above an existing building.
We're actually fans of the OCAD building; Toronto hasn't seen anything like it before. But, similarly to OCAD, Alaska Condos features a "tabletop" design. Alaska Condos is obviously drastically different than the Rosalie Sharp Pavilion, but they're still reminiscent of each other, and like we just said, one of the reasons Toronto loves OCAD so much is because there's nothing else like it. Maybe the finished product won't look like OCAD at all, we'll just have to wait and see!
About Quadrangle Architects
If you live in Toronto, odds are you've walked by a Quadrangle-designed building. Some of the notable residential designs that Quadrangle is currently working on include Studio on Richmond by Aspen Ridge Homes, Abacus Lofts by DAZ, and 36Hazelton by Alterra and Zinc Construction. Quadrangle is even working on a very interesting mixed-use development in China called Rain Towers.
It makes sense that Quadrangle and Will Alsop are teaming up at Alaska Condos. Quadrangle is known for their ultra-modern buildings, and when you compare their designs with Alsop's, the styles mesh pretty well. We are very excited to see how Quadrangle's and Alsop's design for Alaska Condos evolves over the planning process.
Stay tuned, we'll be keeping a close eye on Alaska Condos over the coming months.