Burlington's landmark condo tower is now open to the public!
By Lucas on Feb 11, 2016
For the last half a year, we've been keeping a close eye on Adi Development Group's Nautique Lakefront Residences in Burlington. Finally, the big day arrived as Adi Development just celebrated the grand opening of this incredibly exciting landmark condo tower.
Samantha Sutton, Adi Development Group, showing potential purchasers suite options. Photo courtesy Adi Development Group
The word "landmark" gets thrown around a lot in the new home industry, but we believe the term actually applies to Nautique. RAW Design, the innovative architecture firm in charge of the building's sleek look, has made sure of it. "Nautique will be an inspiring addition to the skyline," says Roland Rom Colthoff, Principal of RAW. "Its contemporary design looks forward to the future of downtown Burlington."
When completed, Nautique will be one of the tallest residences on Burlington's prized waterfront (at Martha Street and Lakeshore Road, just east of Brant). The five storey podium will be an eye-catching addition to the waterfront area and will surely turn some heads. Double height retail will be featured in the podium, bringing even more successful businesses to the neighbourhood.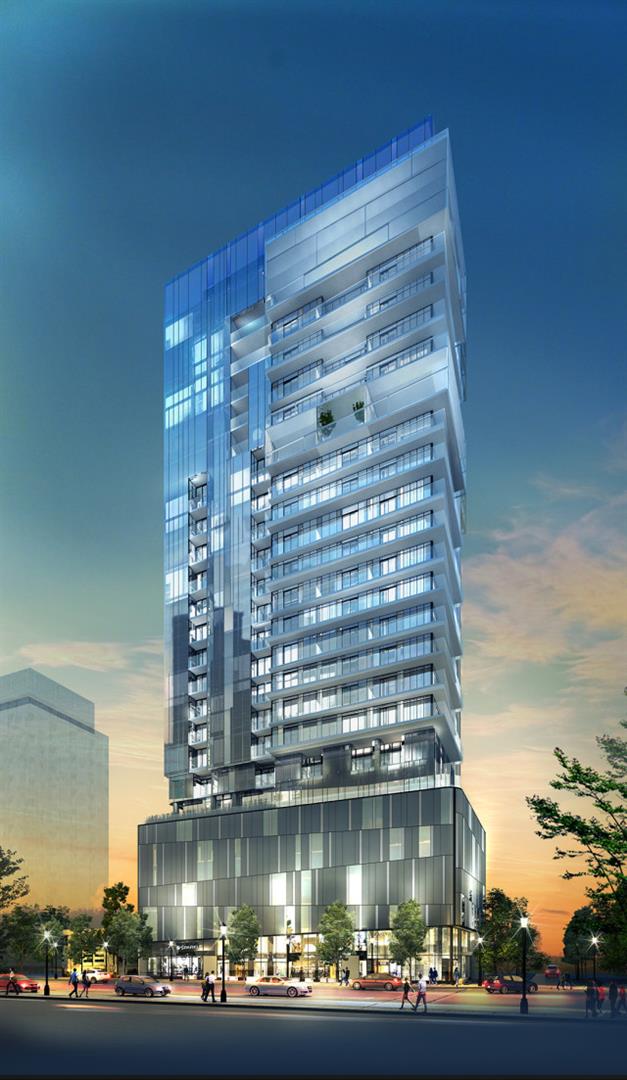 With other successful developments in Burlington (The Mod'rn and LINK), Adi Development is treating the city like a world class destination, and the high end designs presented at Nautique are testaments to that philosophy. "Adi is bringing an entirely new design perspective to this city," explains Anna Simone, founding partner of the interior design firm for Nautique, Cecconi Simone. "This design will stand on its own merits. It can compete on a global platform."
The stunning design, incredible location, and Adi's spotless reputation in Burlington are the reasons why Nautique was already more than 75% sold leading up to the grand opening. Now that the presentation centre is open to the public, Adi may as well install a revolving door because a ton of interest is going to come pouring in.
There are 192 suites total at Nautique, ranging up to more than 1,300 square feet. Adi Development has also recently announced that they will soon be launching the exclusive penthouse collection! All the suites at Nautique are going to be amazing, but just picture how incredible the lake views will be from a penthouse suite! We're sure there are already people who have registered who are waiting for this release.
With such a great initial response to Nautique, it is clear that the demand for this kind of high quality condo living is strong in Burlington. Adi Development is filling a much needed demand in the Burlington housing market, and we believe that this is the kind of development that the city's waterfront really needs to make it an actual destination spot.
Nautique is bringing a sense of prestige to the neighbourhood, and this is your chance to be a part of it. Burlington is already known for having a beautiful waterfront neighbourhood with heritage buildings, shops, cafes, restaurants, a fantastic boardwalk, mature trees, and plenty of greenery - all it needs now is a landmark residence!
Visit Nautique Lakefront Residences today!
The Nautique Lakefront Residences presentation centre is now open to the public; it is located just north of Lakeshore Road on the east side of Brant Street.
For more information about the hours of operation or to receive updates about the upcoming penthouse collection, register today!