Canderel Integrates Samsung Smart Home Technology at YC Condos
By Lucas on Jul 11, 2014
On June 10, 2014, Canderel made condo history by announcing their partnership with Samsung SDS and True Marque Group of Companies. Canderel's new development YC Condos will feature Samsung Smart Home technology, allowing residents to operate practically every facet of their suite from their mobile phones.
(L-R) Rizwan Dhanji and Jason Abbott
"There are four things that really sets us apart. We focus on communication, control, security, and access of your home," said Jason Abbott, Managing Partner, True Marque. "Whether you live in a $10 million home, $1 million penthouse, or a $300,000 condo unit - 500 square feet or 1,000 square feet - it doesn't matter, everyone still wants those four things. Communication, control, security, and access. 'What's going on in my home, and how do I control it?'"
This single source platform can feature a variety of functions. "The app is the key feature. If you have Nest or something else, you have to go in and out between different apps. Here's one app where you can control your stereo system, blu-ray player, your TV, your door lock, your cameras, lighting - everything is controlled through one system. And if you want to add to it, it's scalable," explained Rizwan Dhanji, Vice-President, Sales & Marketing, Residential Group at Canderel.
The very first function that Abbott demonstrated was the door lock, which will come standard for every single suite at YC Condos. The door lock can be opened or locked via a touchscreen, your mobile phone, or with a master key (which you're supposed to keep in a safe, accessible place).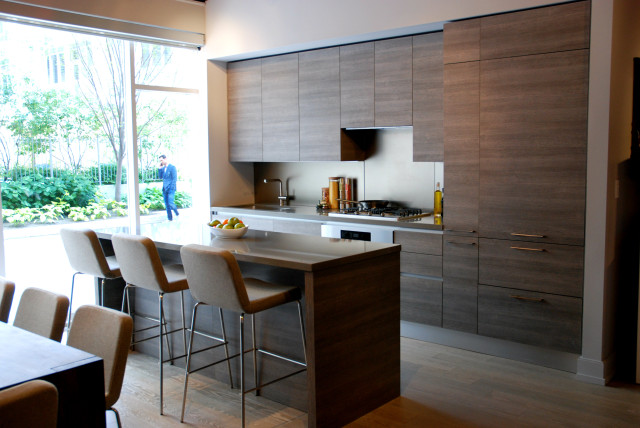 Some upgrades include a wall pad that acts as a control for your lights, energy status, your entertainment system, your door camera, and you can even call the elevator from it. Imagine you're cooking in your Euro-style kitchen and there's a knock at your door. Your door camera activates and your friend from down the hall who you invited over for dinner pops up on the wall pad, so you open the door from your phone without missing a beat!
The penthouse suites will have the door lock, wall pad, and door camera come as standard. Everything else is an upgrade. The great thing, which Dhanji pointed out, is that you can add new functions whenever you want. Other features include an intruder alert and motion sensors. If you're out of town or away from home and a motion sensor is triggered, you will get a notification sent to your phone, and you will be able to see what's happening. The feature provides peace of mind like none other.
About YC Condos
Designed by Graziani & Corazza, YC Condos will rise 66 storeys and boast a head-turning facade. The modern-contemporary design will serve as a breath of fresh air for the Yonge and College area.
Via Canderel
The interiors were designed by Burdifilek. Some of the impressive interior features and finishes include 10' ceilings, gas fireplaces with stone surround, gas barbecue connections on the spacious balconies, wide plank engineered wood flooring, custom-designed kitchen cabinetry, and double-edged quartz countertops.
Via Canderel
The penthouse suites are located on floors 59 to 64, they're all over 1,000 square feet, and prices start from $932,900. If you're wondering why the penthouses don't go all the way to the 66th floor, it's because Canderel has decided to use that area as amenity space, which features a 4,415 square foot Infinity pool. Every time residents go for a swim, they'll be swimming in the highest Infinity pool in the western hemisphere!
For more information about YC Condos, email sales@yccondos.com