Celebration Common is the new waterfront park at Ontario Place
By Newinhomes on May 03, 2018
The province has released more details and the conceptual design for Celebration Common, the new park at Ontario Place in Toronto's west end.
Reaching the size of approximately 14 football fields, Celebration Common will be a "vibrant waterfront destination" accommodating large-scale festivals and events, an "innovative outdoor play area" for kids, beaches, plenty of greenspace, and a Woodland lookout offering unique views of the natural surroundings and downtown skyline.
"It is exciting to see the great progress our government is making on transforming Ontario Place into a year-round destination," says Han Dong, MPP, Trinity-Spadina. "The preliminary designs for the Celebration Common give us a taste of the incredible space it will become — a beautiful waterfront park where people can go to relax or enjoy cultural events and recreational activities."
Kids' Exploration Outcrop
The conceptual design is really just the first step of the process. So while the renderings are exciting, we're looking forward to the transformation actually taking place!
The most intriguing detail of the recent announcement is the "Kids' Exploration Outcrop." The province simply describes this area as an "innovative outdoor play area." Everything else sounds and looks like more greenspace, which is fantastic, but what exactly is an exploration outcrop?
Is it just an elaborate jungle gym? Is smart city tech involved somehow? There's a rendering of it, but we still don't fully understand what's going on. If the province intended to set high expectations with such a fancy name, mission accomplished.
"We have made tremendous progress on our vision to revitalize Ontario Place and bring new life to this iconic destination," says Daiene Vernile, Minister of Tourism, Culture and Sport. "The design of the new park boosts public access by providing an ideal location for festivals, cultural events and recreational activities."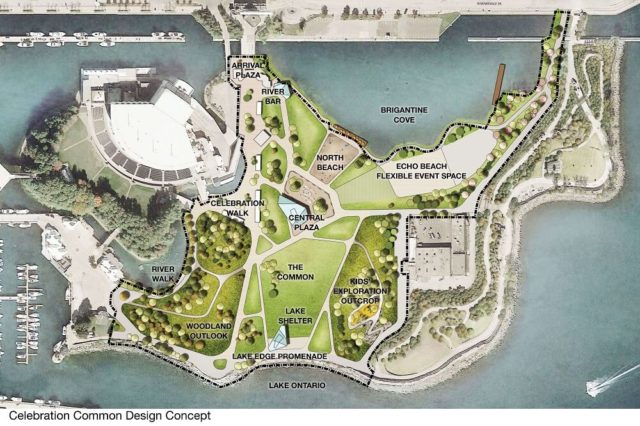 "Celebration Common illustrates the wonderful progress we are making to transform Ontario Place into a vibrant year-round destination along Toronto's spectacular waterfront," Vernile adds.
The Ontario Place area has so much potential for locals and tourists, so we're eager to see it become more of a must-see in Toronto. The schematic designs are scheduled for completion by fall 2018.
"Summer at Ontario Place is a great way for Ontarians to have fun in the sun and take advantage of our waterfront location," says Penny Lipsett, Chair of the Board, Ontario Place Corporation. "Ontario Place welcomes people to explore our public space and participate in the many recreational activities, games and events that will take place over the summer months. We are excited to continue to offer activities the whole family can enjoy."
While the revitalization is underway, Ontario Place will continue offering a variety of programming, including IMAX movies at the Cinesphere, Trillium Park's free performing arts series, and there's also beach volleyball and an outdoor synthetic skating rink.