Curb Appeal 101: What buyers want to see
By Serge Bojinski on Aug 29, 2016
There's always a house or two on every street that stands out because it just has that "it" factor. Whatever "it" is, it's considered "curb appeal," and everyone wants it.
Is it the beautifully trimmed front lawn? What about that spectacular architecture? Or maybe it's the amazing backyard gazebo you caught a glimpse of as you rounded the corner?
Of course, not everyone has an unlimited amount of time or money to boost their curb appeal, so identifying the most desirable features is key. Here you'll learn the secrets to incorporating quick and easy renos for improved curb appeal, as well as some customizable features that will take your home's desirability factor to another level.
HGTV.com surveyed design professionals for insight into what people notice first about the exterior of a home. Some things may surprise you.
1) It's a numbers game
House numbers may seem insignificant, but they speak volumes about the address they represent. Dirty, dingy, or broken digits should be replaced with new numbers that match the style of your home. Place them in a well-lit area so they're visible day and night.
2) A well-kept yard
We all have that one neighbour who treats their lawn like a golf course—mowing and trimming at the first sign of growth. While you don't have to be fanatical about it, maintaining a healthy lawn height, trimming around trees and flowerbeds, and filling in bare spots will give the right first impression.
3) Eye-popping colour
For every season except winter, bright annual and perennial plants and blooms are the highlight of every garden. For a minimum expenditure, you can spruce up front beds, window boxes, or porch containers with colourful flowers. Resist the urge to spread single plants across a large area; several small plantings with an abundance of flowers will make a greater impact.
Stay away from plastic or artificial arrangements as they'll detract from the overall presentation. Add some dark mulch or bright-coloured stone in the beds to create contrast and definition.
4) A welcoming entry
Your front door should be the focal point of the facade, so add a fresh coat of paint and some new hardware for an inexpensive update. Consider a bright, trending colour like teal or red for a fun, fresh look or go for a traditional style with slate or brown stain.
While you've got your paintbrush out, make sure all the trim and shutters look crisp and fresh too. Also, don't forget to add a new welcome mat to greet all the extra visitors.
5) Clean up and fix up
Roll up your sleeves and put on your gloves, it's time to clean off dirt and grime. Knock down unsightly bugs and spider webs with a broom first, then carefully use a garden hose with a spray nozzle to rid the house of years of buildup.
Watch for mold or mildew growth in shaded areas. It can be safely removed with a solution of one cup of bleach combined with one gallon of water. Soak the area with water first and then use a natural or synthetic bristle brush to apply the bleach solution. Rinse thoroughly to remove any residue and prevent the brick from absorbing the bleach.
Wash the windows, inside and out, then watch them sparkle when the sun comes out. Remove leaves, twigs, and debris from gutters and downspouts. Replace any damaged or stained sections.
Sweep off the porch and wash it down. Specially formulated stains and paints can make discoloured concrete look like new. Stand back and take a look at your roof. Repair or replace any missing or loose shingles.
6) Light the way
Affordable solar light fixtures are the perfect way to highlight and accent all your hard work. Add them to landscaping and walking paths to illuminate dark areas and add a little twinkle.
Consider replacing old light fixtures on the porch and garage. There are a variety of choices available at home improvement stores that will change the entire look. For matched sets, be sure to select a size larger to go on the garage. Undersized fixtures will detract from the look you're trying to achieve.
Consider these other great ideas to improve your home's curb appeal:
Now that you've taken care of the basics, it's time to skyrocket your home's curb appeal to a new level. According to KP Construction Custom Decks, home improvements that accentuate comfortable outdoor living and blend with the house design and texture will add significant value to your property.
1) The perfect path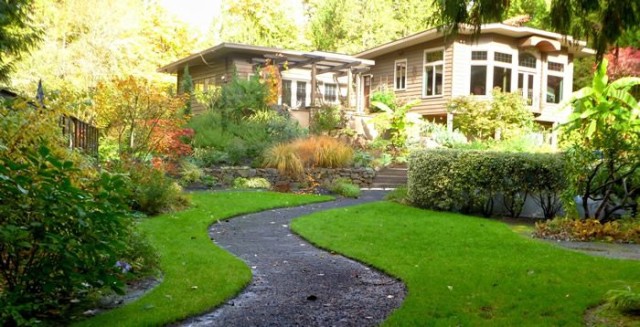 Creating a decorative path to your front entry or backyard retreat extends a charming invitation to guests and practical way to navigate your yard. With the wide selection of hardscape colours, textures, and styles, you may want to consider hiring a professional. Design experts can recommend the best choices of sizes, shapes, and placement of pavers, stone, or flagstone to match your home.
2) Window to the world
Just cleaning your windows will not be enough to conceal a major problem. While getting new windows can be costly, new energy efficient products like Low-e glass will help reduce heating and cooling bills to offset the expense. Compare replacement windows and contractors to obtain the best products and installation.
3) Think bigger in the yard
To achieve the ultimate curb appeal, BobVila.com recommends adding a professional landscaping design. It can create a beautiful environment for you and your family plus potentially add 20% to your home's value when you sell.
Today's landscape architecture involves more than just raised flowerbeds and planting, now incorporating structural features is the norm. Whether your yard is large or small, you should consider high-yield hardscaping investments such as a deck, pergola, gazebo, lighting, walkway, fire pit, water feature, outdoor kitchen, hot tub, or pond.
4) Swing for the fences
A great fence design can provide the finishing touches on a beautiful home. Use attractive fencing to hide an eyesore from view, create privacy from a busy street, establish a clear boundary line between your property and the neighbour's, and add to the overall aesthetics of your home.
If you currently have a fence, make sure it's in good condition and structurally sound. If not, it's time to replace it. Change things up by selecting something different than you had before and that visually complements your home.
Whether you choose pressure-treated wood, wrought-iron, exotic or luxury woods, or stone, make sure it can withstand the cold winter ahead and hold up to the elements.
Want to know the best part?
You can do a few of the items on this list or every last one of them and the result will be the same...increased curb appeal for your home.
It's time to get started on at least one of these tasks before the warm summer months are gone. Keeping your home in excellent condition will not only add to its curb appeal but save you money by avoiding expensive repairs in the future. And once you've accomplished a few of these chores, you'll be ready to look for your new home!