Cutting Gardens
By on Apr 17, 2008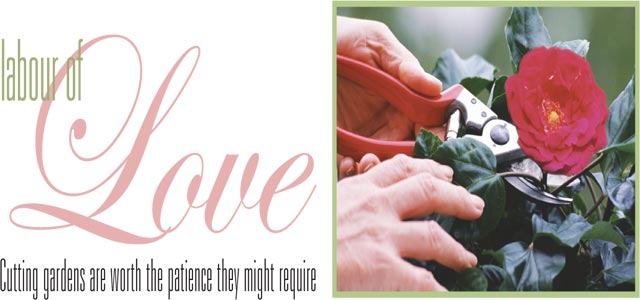 By Kathy Flaxman
Armloads of Cosmos, with their delicate, softly coloured petals and wispy beauty-this is the vision that carries Linda Reader through the dead of winter. Surrounded by seed catalogues, gardening clogs at the ready, she?s planning her spring garden?her cutting garden.
"Cosmos have a Victorian aura about them," she says. "They're a tall, thriving, romantic flower with a lacey look and they bloom all summer. I love flowers and I want to be surrounded by them all the time."
Reader has an entire bed as big as a small lawn just for her annuals and an abundance of perennials that come up and out from May to October in borders around her farmhouse home. Her grandfather in England used to grow sweet peas and put them in pretty vases for his family. Reader is a dedicated gardener who inherited a green thumb, but any greenhorn can cultivate heaps of blooms for cutting.
A cutting garden is a labour of love involving planning, learning, and patience. The first lesson is to not be afraid. Meredyth Hilton, whose company, Artistic Gardens, has created numerous masterpieces throughout Ontario, notes that clients are often reluctant to cut flowers. They fear they will hurt the plant or somehow be taking 'something away' from the garden. Not true.
"Cutting flowers is beneficial," Hilton stresses. "It takes a lot of energy for a plant to make seeds. By cutting the flowers, you halt that process and in many cases the plant blooms for a longer time."
Wondering whether to pick perennials, annuals, biannuals, tubers, or evergreens? Here is a tip on finding the plant that works in a cutting garden: pick your favourite.
A selection of hardy perennials will form an excellent foundation for your cutting garden and using seeds or seedlings, you can plant annuals every year. Daisies, liatris, delphiniums, peonies, evening primroses, and lilies come up yearly at different times for a reliable burst of colour and cuttable material. Asters, zinnias, cosmos, and snapdragons added to the mix can be relied on too for notable blooms. Want an early start? Look to the bushes. Forsythia sends a vibrant splash of yellow in late April and can be cut and forced indoors. Lilacs with their wonderful scent are a sure signal that spring is here indoors as well as out!
Hilton points out that gardening is, for those who enjoy it, a lifelong hobby. She suggests visiting garden centres every week or two to see displays in bloom.
"These centres always have gorgeous plants in full flower in season," she says. "That's easier for a new gardener to understand than a picture on a package. Some plants and flowers take a couple of years before they are really established, and buying somewhat mature stock can help speed up the process."
A cutting garden will ideally have an abundance of plants with strong, sturdy, long stems that will hold up the flowers well. But height is not a must. While a sunflower or liatris or wild onion will look stunning in a tall vase, don't bypass pansies which are ideal in a tiny jar on a vanity counter. In fact, lose all preconceptions and indulge your personal taste.
"Geraniums look very pretty cut," Hilton notes. "One lily with some luscious greenery is enchanting. A variety of flowers in a variety of pretty containers will be beautiful no matter what. Trees like Japanese maple have wonderful leaves and certain evergreens lend themselves to cutting too. This is a long-term project that can last and be enjoyed for decades."
Work with What You Have
Live on a modest size piece of land? Border beds in front and back will be perfect.
Consider a cutting bed right in the middle (or side) of your lawn.
Condo dweller? Plants in containers provide flowers that can be cut too!
Prepare the soil as for any garden project. Dig in and turn the soil over, cover with a few inches of peat moss or manure and fertilizer, mix and rake.
Cut flowers when the day is cool and plunge stems into a bucket of water. Inside, cut a further quarter inch off and place in water that contains your choice of plant food. No buds or leaves in the water and change the water daily.
Favourites for Cutting Gardens
Astilbe, Pansies, Phlox, Roses, Mums, Sweet peas, Tulips, Daffodils Peonies, Day lilies, Daisies Delphiniums, Hydrangea, Verbena, Cleome (spider flower), Primula (or primrose), Liatris, Iris, Carnation, Pinks, Sweet Williams, Bachelor Buttons