Daniels FirstHome Beckenrose opening in Brampton this summer
By Newinhomes on Feb 02, 2018
Based on current market condition reports in both the resale and new home markets, and some of our recent first-time buyer stories, we understand how you may be discouraged. Fortunately, Daniels FirstHome has a new community coming this summer!
In the wake of double digit price growth in the condo market, record low single-family homes, and a stress test for uninsured mortgages, Daniels is seemingly coming to the rescue with Daniels FirstHome Beckenrose in Brampton.
The fully-built condo townhomes are located at Rising Hill Ridge and Beckenrose Court, surrounded by shopping, restaurants, entertainment, recreational centres, health services, schools, green space, and five golf courses.
The condo townhomes come in one-, two-, and three-bedroom models with prices starting from the mid $300,000s. And you only need 5% down to purchase!
Here's how it works:
1) Register for Daniels FirstHome Beckenrose
When you register, you'll receive updates about Beckenrose as well as an invitation to the preview event.
2) Attend the preview
The amazing thing about Daniels is they have the ability to build before going to market. That means you can actually see and tour the new homes before purchasing. There will be a model for every floor plan available for you to tour. You will also receive the pricelist at the preview event!
3) Purchase
If you like what you see and decide to purchase, you have to make plans to attend the sale day. We suggest you arrive early because Daniels FirstHome operates on a first-come, first-served basis. We also recommend you have a couple back-up choices in case the model you want sells out before you get a chance to buy.
When you arrive, there will be a big line-up. Don't let that discourage you. According to Daniels, the sale days are actually pretty exciting and people have a good time mingling with potential neighbours.
4) Move in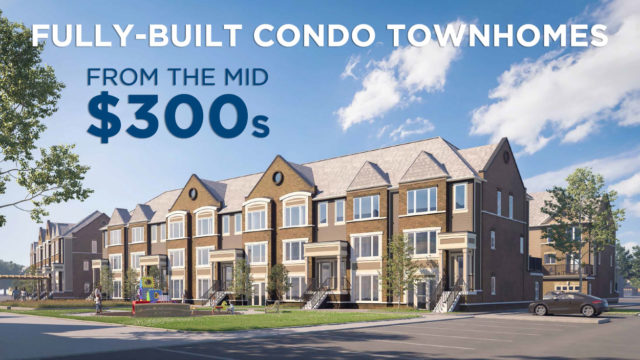 After you sign your Agreement of Purchase and Sale, there's a 10-day cooling off period. During this time, you can think about your purchase and have your lawyer review the agreement. At any time during these 10 days, you can back out of the purchase with no penalties.
We don't think this will be the case though, so what you should actually do is start packing because Beckenrose has 60- to 120-day move-ins! Since the homes are already built, you only need to wait two to three months. Most new homes require two to three years to be built – sometimes even longer!
So, what are you waiting for? Register for Daniels FirstHome Beckenrose today!