Emerald City construction is on schedule and there's a new condo coming soon!
By Lucas on Feb 08, 2017
We recently had the opportunity to visit Emerald City, the master-planned condo community in North York by ELAD CANADA. We met with Chris Bessey, Senior Project Manager, to get an update on construction progress and learn more about the new tower that's coming soon.
(Before we jump into it, we have to provide a few notes so the construction progress is easy to follow. The construction team refers to the current site at Emerald City as Block B. There are three towers; B1, B2, and B3. B1 is The Colours of Emerald City, B2 is Fifth on the Park, and B3 is Park Club. We'll put the condo names in brackets whenever Bessey refers to the projects with their construction code names so it's easier for you to follow - we just wanted to explain why he is referring to them as B1, B2, and B3).
The windows on The Colours of Emerald City have reached the top and ELAD is on schedule for August 2017 occupancy. Window installation at Fifth on the Park is scheduled to start in the middle of March, and this building is expected to start occupancy in August 2018. For Park Club, the windows will be arriving in June and occupancy is expected January 2019.
"One thing ELAD does well is we register buildings fast, so our intention is to register this (Colours) no later than the end of November of this year," Bessey said, pointing to the building rendering on the site office wall. "We want to register this project (Fifth) by the end of December 2018, and B3 (Park Club) by February/March 2019."
We just threw a lot of dates at you. You probably noticed that the dates of registration are a few months after the occupancy dates. When you buy preconstruction, interim occupancy takes place before the building is officially registered with the city. When Bessey says that ELAD registers quickly, he's right. Some developers can take up to six months or more to register, which means there is still work happening on site. So, the beauty of a quick registration is having a completed condo sooner rather than later.
Construction at Block B is on schedule. ELAD has reached typical floors at Park Club, which means they'll be adding a new floor every four days (every five if you account for some bad weather). During our walk around the site, Bessey pointed out the higher quality glass that's being used on Block B. The glazing is better, more reflective, and more energy efficient. He likened it to a glass tower on Bay Street. The buildings in Block C will also feature this higher quality glass.   
We got a sneak peek of the pool!
"My understanding is that sales are extremely good - so good that we're starting to launch what we call C3 (The Peak), which is a mirror image of B3. When B3 was being built, we were told to build a model suite and have it finished for the first week of September 2016. By the first week of February 2016 before we even handed it over they were 87% sold to our investors," Bessey said, adding that ELAD is expecting even more interest in The Peak.
Block C, where the site office is currently located, will be a mirror image of Block B and it's where The Peak will rise. The Peak is scheduled to hit the market this spring as the seventh condo tower at Emerald City. This will also be the final 33-storey tower in the community.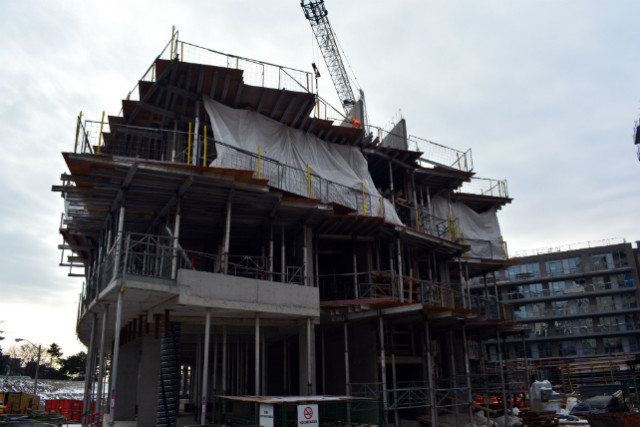 Though The Peak is a mirror image of Park Club, there will be some differences in the floor plans. ELAD consulted their past and prospective purchasers, discovering a strong demand for larger units, so there will be no studios at The Peak. More couples and families are showing interest in this later phase of Emerald City. The conveniently located school and Parkway Forest Community Centre across the street are big draws, plus the low-rise market has become so unattainable.
WZMH, the architect of The Peak, designed the floor plans to be square-like, so the layouts will be open and functional, allowing you to take advantage of every square inch. On the ground floor of The Peak, there will be four two-storey townhomes, and Block C will have a large ground floor retail component.
Demolition at Block C is scheduled to begin this May, and when that's complete, they'll start digging for The Peak.
Visit Emerald City in North York
While we have our eye on Block C and the new 33-storey tower, there are still units available in Block B! For more information about the remaining units at Park Club, visit the presentation centre at Don Mills and Sheppard or call 416-492-0001.