FirstHome Affordability in Erin Mills!
By on Mar 13, 2013
Daniels
FirstHome Hazelton Place Phase Two is coming this spring!
Time flies when you're busy making new home history!
The Daniels Corporation
began building their FirstHome™ Communities in Erin Mills nearly 10 years ago. During this time,
Daniels
has earned a strong reputation for providing quality-built homes in amenity-rich locations at affordable prices, with incredible first-time buyer programs. With over 12 FirstHome™ Communities successfully sold,
Daniels
is excited to introduce the newest and FINAL addition to this extraordinary collection of communities in Erin Mills, FirstHome™ Hazelton Place Phase Two.
Now is the time to register for Daniels FirstHome™ Hazelton Place Phase Two Preview and Sales Event taking place this spring. Last year, Phase One sold out in less than four hours! Already well under construction at the northwest corner of Hazelton Place and Plantation Place, FirstHome™ Hazelton Place Phase Two offers the very last opportunity to purchase in a brand new FirstHome™ Community in Erin Mills. Priced from an unbelievable $199,900, this limited collection of fully-built one, two and three-bedroom Condominium Townhomes ranging in size from 529 sq.ft. to 1,515 sq.ft. is one of the most coveted new home communities on the market today. Its location is just steps to the Loblaws Superstore, shops, restaurants and services of Erin Mills Town Centre, as well as the big box stores along Eglinton Avenue with quick access to Highways 403, 401 and 407 ETR. "This is the FirstHome™ Community everyone has been waiting for," says Daniels Vice President Don Pugh. "The location is just unbeatable!"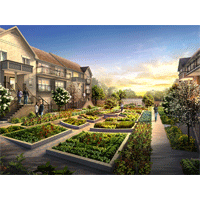 "At
Daniels
, we think about homeownership differently and make it as easy and accessible for new homeowners as possible. Our FirstHome™ Program is truly unlike any other offered within the GTA today" says Pugh. For starters, Daniels builds the homes before going on sale, so that potential buyers can walk through a model of each design to decide which layout best suits their lifestyle needs. At FirstHome™ Hazelton Place Phase Two, there are 10 beautiful model homes to tour, including four that are furnished and decorated by Daniels' Décor Team. Plus, by building the homes before they go on sale,
Daniels
is also able to offer homeowners the opportunity to move-in within 30, 60 or 90 days!
Daniels is once again offering their Gradual Deposit Payment Plan. This creative plan allows new homeowners the opportunity to pay for their down payment in stages. Purchasers will only have to pay $2,500 with the Agreement of Purchase and Sale, and another $2,500 within 10 days of the purchase, and then $1,000 every month until they reach 5% of the purchase price or final closing on their new home. Daniels is also working with financial institutions to cap the mortgage rate at an incredibly low level!
But that's not all! FirstHome™ Hazelton Place Phase Two will also include a lifestyle package featuring 5 appliances, window coverings and a Rogers bundle that consists of Digital Cable, High-Speed Internet and Home Phone for one year.
Much like Phase One, FirstHome™ Hazelton Place Phase Two will include raised stone-edged gardening plots embedded into the overall community landscaping. These plots are the perfect way to bring neighbours together, while giving back to the environment. "Urban agriculture has proved to be a popular community building tool in
Daniels'
Communities across the GTA," Pugh says. "The gardens are a hotbed of activity during the growing season. We hear a lot about the health benefits of eating locally produced food – and this is as close as you can get!"
The Daniels Corporation (www.danielshomes.ca) is one of Canada's preeminent builder/developers with a reputation for quality and integrity in all forms of residential construction. Named the Tarion Warranty Corporation's 2012 High Rise Builder of the Year and the recipient of the 2012 Toronto Arts and Business Award presented by the Toronto Arts Foundation, Daniels has built more than 23,000 homes throughout the GTA. Among its many initiatives, Daniels was chosen to partner with Toronto Community Housing to revitalize Regent Park – 69 acres in Toronto's Downtown East. Committed to community, Daniels continually offers innovative programs that help people achieve homeownership, champions neighbourhood initiatives that enhance residents' quality of life, and supports numerous charities and non-profit organizations.
Sales at
Daniels
FirstHome™ Hazelton Place Phase Two will be on a first-come, first-served basis - and judging from the response
Daniels
has received already, these homes are sure to sell quickly. REGISTER TODAY TO ATTEND DANIELS' PREVIEW EVENT THIS SPRING by calling 905-814-0123 or visiting
www.danielsfirsthome.ca
.