Frankie Flowers Talks Balcony Gardening at Lago
By Lucas on May 27, 2013
On Saturday May 25, 2013, the Newinhomes.com team headed out to Monarch's Lago Experience Centre in Etobicoke for a very special afternoon of hors d'oeuvres, condo shopping, and gardening tips.
Gardening at Lago with Frankie Flowers
The reason purchasers and registrants were gathering at the Lago Experience Centre last weekend was to hear Frank Ferragine (better known as "Frankie Flowers") give a few tips about home gardening for a condo space. Frankie Flowers is one of Canada's most trusted gardening authorities. You may recognize him from his appearances on CityLine, or his weather anchor role at Breakfast Television.
We had a chance to meet with Frankie Flowers right before the seminar to hear about what he was planning on presenting to the group: "We're going to talk about outdoor living with kind of like a Miami-tropicalized-Toronto feel. You know, we have the water here down at Lago, you have beautiful views - so how do you benefit from those views and how do you do it right? How do you make sure the plants you buy are going to live? I'm also going to talk about functionality of the space: how to use it, aesthetics: how to make it look nice, and about the right materials to use."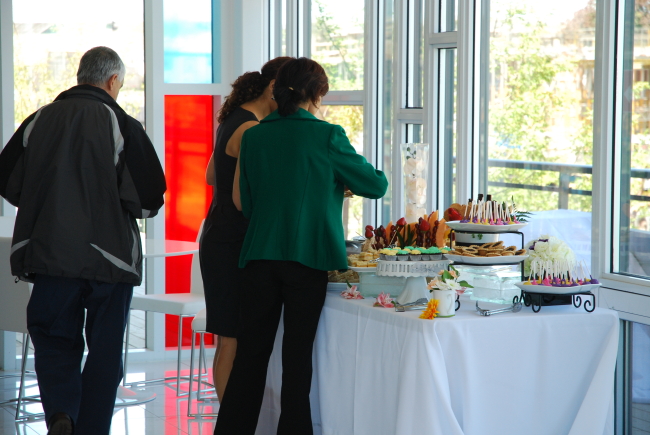 Tips on Balcony Gardening from Frankie Flowers
Listed below are a few tips from Frankie Flowers that we think a condo owner with a balcony might find useful:
Use a piece of cardboard and cut it to the exact dimensions of your desired outdoor furniture. Place it on the balcony to see if the size makes sense

Weigh down gardening containers with rocks to prevent the wind from blowing them over

Use oversized pots for flowers and herbs. That way, you can go away for the weekend, and the plants won't run out of water

Outdoor pillows are a cheap and easy way to add colour to your balcony

Palms are good for windy spots. The wind passes right through them

Basil is not good for wind - it will destroy them!

Western exposure? Get a tomato plant

Growing your own herbs makes you look like a professional chef

Always remember: Less is more!

About Lago by Monarch
Monarch's condo development, Lago, is playing a very significant role in the transformation of Etobicoke's waterfront. Everything about Lago will make it stand out: it's great location on the shore of Lake Ontario, it's beautiful high-rise design, and the great suite options.
The suites at Lago are over 70% sold. The remaining suites range from 367 to 1,408 square feet and will boast a wide selection of impressive interior features and finishes, including marble and porcelain tiling, 9' ceilings, granite or composite quartz countertops, deep upper cabinets in the kitchen, as well as brand name appliances.
If you are interested in learning even more about Lago by Monarch, then check out their project page on Newinhomes.com. You can also pay a visit to the Lago Experience Centre at 2167 Lake Shore Blvd. West in Etobicoke or call 416-495-3544 for more information.
To view more photos of our trip to the Lago Experience Centre, check out our Facebook album!