GTA investors look to Fox Harb'r for their next vacation home
By Lucas on Jun 16, 2016
What started as Ron Joyce's passion project for friends and family in his hometown community of Tatamagouche, Nova Scotia has transformed into one of Canada's most promising real estate investment opportunities, and we had the privilege to see it all in person. Fox Harb'r Resort on the north shore of Nova Scotia offers a luxurious lifestyle and some exciting plans were recently announced for the property.
We met Kevin Toth, President of Fox Harb'r, and Eric Lum, Milborne Real Estate Sales Manager - Fox Harb'r Residential, who served as tour guides over the course of our two-night stay. Before jumping into our Fox Harb'r experience, here's a brief history of how the resort came to be, according to Toth:   
Ron Joyce, who co-founded the Tim Horton's franchise, was born and raised in Tatamagouche, a short drive from Fox Harb'r's location. In 2000, Joyce opened the 1,150-acre gated resort. At first, the resort was a place where Joyce hosted friends, family, and the community. The resort evolved naturally as people expressed the desire to stay for longer periods of time; that's when Joyce started building homes.
From that point, Fox Harb'r began offering a wide range of activities and services, making it a world-class destination. Joyce even built a landing strip so that guests with private planes could fly directly to the resort. Fox Harb'r occasionally partners with airlines to coordinate direct flights. Jazz has landed at Fox Harb'r before, and we're sure they will again in the near future when more Greater Toronto Area (GTA) investors begin purchasing lots.
Arriving at Fox Harb'r    
If you don't have the luxury of a private plane, Fox Harb'r is only about an hour and a half shuttle ride from the Halifax airport. The ride in the Fox Harb'r airport shuttle is a scenic and relaxing start to your stay, eliminating any concern over transportation to and from Halifax.
Approaching the front gates of Fox Harb'r is quite impactful thanks to the elaborate landscaping, large boulders, and lifelike fox statues that welcomed us to the resort. The shuttle let us off in front of a quaint house that was split into six separate rental rooms. The houses are strategically placed so that every room has a view of the ocean.
Rental rooms
Before enjoying a delicious dinner in the Cape Cliff dining room, prepared by famous local chef Shane Robilliard, we mingled over hors d'oeuvres with other guests in Edgewood Manor, which is one of the two single detached homes that are completed, fully furnished, and for sale.
Edgewood Manor
Edgewood Manor is a 4,000 square foot, four-bedroom, four-bathroom home that offers breathtaking views of the Northumberland Strait and Prince Edward Island. The living room has 22' ceilings and an impressive two-storey stack fireplace. The Edgewood is available for $1,595,000.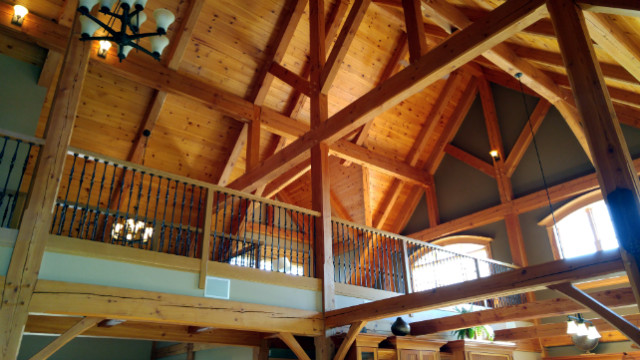 Edgewood Manor
When we sat down for dinner, we learned more about Fox Harb'r's sustainable initiatives. Chef Shane explained that they are aiming to be fully sustainable when it comes to growing their own produce. We eventually got to visit the three greenhouses during our visit. Of course, the seafood is also responsibly sourced - in fact - Cape Cliff is the first Ocean Wise certified restaurant in Atlantic Canada. Chef Shane even catches some of the fish himself.
Touring the Fox Harb'r property
We spent our first morning touring the property with Toth and Lum. Our first stop was at the golf training academy, where we got to take a couple swings and have the head instructor attempt to fix our form (to no avail, as talented as he was).
Fox Harb'r began as a golf resort that became famous for its championship 18-holes. The Graham Cooke designed course was named the Best New Golf Course in Canada by Golf Digest in 2001. The course has a unique layout, offering parkland terrain on the front nine, and links on the back nine. There is also a less daunting nine-hole course that is ideal for training, and it is seeing a lot of action now that more families are starting to stay at the resort.
After embarrassing ourselves in the tee box, we headed off in golf carts along the shore of the Northumberland Strait. The trail is perfect for jogging, hiking, or mountain biking, and the views are incredible. We used the trail to get to the west side of the resort where we toured the second single detached home, The Seagrove, as well as a collection of beautiful townhomes.
The Seagrove is a New England style 3,100 square foot, three-bedroom, three-bathroom home with a two-car garage. The home features hardwood flooring, a main floor master ensuite, a media room, and a floor-to-ceiling fireplace. The Seagrove is available for $1,029,000.
Townhomes
The townhomes at Fox Harb'r are very large, ranging from 2,700 to 3,000 square feet, plus basements that range from 1,355 to 1,670 square feet. The Executive Townhomes feature 10' ceilings, spa-like ensuites, and floor-to-ceiling windows. Prices start at $525,000. There are also Fractional Executive Townhomes, which give you the opportunity to partially own and have access to the home 12 weeks out of the year. Prices start from $169,000.
If you prefer to build a custom home from scratch, there are half-acre home sites available with ocean, golf, and forest views. Depending on the location, the sites range in price from $195,000 to $385,000.
The Fox Harb'r master-plan  
The new vineyard
Toth and Lum went into great detail about the future of Fox Harb'r. A 10-year master-plan is now in motion, which calls for a total of 257 residential properties, a new vineyard, an equestrian centre, and a new nine-hole course. One of the most recent additions to open at Fox Harb'r is the peaceful and rejuvenating full-service spa.
One thing to keep in mind is that there is absolutely no debt on this property, which is rare for a site this large. This means that this 10-year plan has the funds to move forward without a hitch, so you can be confident in your investment.  
Where the future duplexes will be
The first release of new residential will be a collection of 18 duplexes (nine buildings) near the lighthouse and marina. These homes will range from 1,400 to 2,000 square feet, offer single-floor layouts, and start from $500,000.
Later residential phases call for one-acre lots and high density residential buildings around the new nine-hole, as well as a few smaller cottage lots and a 40-unit inn.
The first year's membership at Fox Harb'r is included in your purchasing price (value of $75,000), and new residents also receive three one-week vacations at Scrub Island and access to over 400 TCP courses (public and private clubs operated by the PGA).
Bidding farewell
Before forcing ourselves to bid farewell to Fox Harb'r, we had the opportunity to eat breakfast in the Sporting Lodge, where the clay sport shooting is conducted. We savoured our final meal by Chef Shane, tried our hand at shooting, and then departed - but our trip wasn't over.
On our way to the airport, we stopped at Jost Winery for a tasting tour and lunch. This is the winery for which Fox Harb'r is growing their grapes. These kinds of local relationships make resorts like Fox Harb'r stand out from the rest.   
As much as we enjoyed touring the grounds, the beautiful homes, the freshest seafood, attempting to shoot and golf, and relaxing at the spa, what we appreciated most was the friendliness of the staff. From our shuttle bus drivers, to the wait staff, Chef Shane, and the president of the resort, everyone was down-to-earth, friendly, and accommodating, which is even more important to the general atmosphere than the ocean views.
If you're looking for a home away from home, Fox Harb'r Resort in Nova Scotia is both a great investment opportunity and a getaway where you will make new friends, discover new cuisines, and experience the East Coast in a way you never have before.  
See below for drone footage and more photos of Fox Harb'r:
The marina
Chef Shane Robilliard
Edgewood Manor
Ron Joyce's living room
Clubhouse