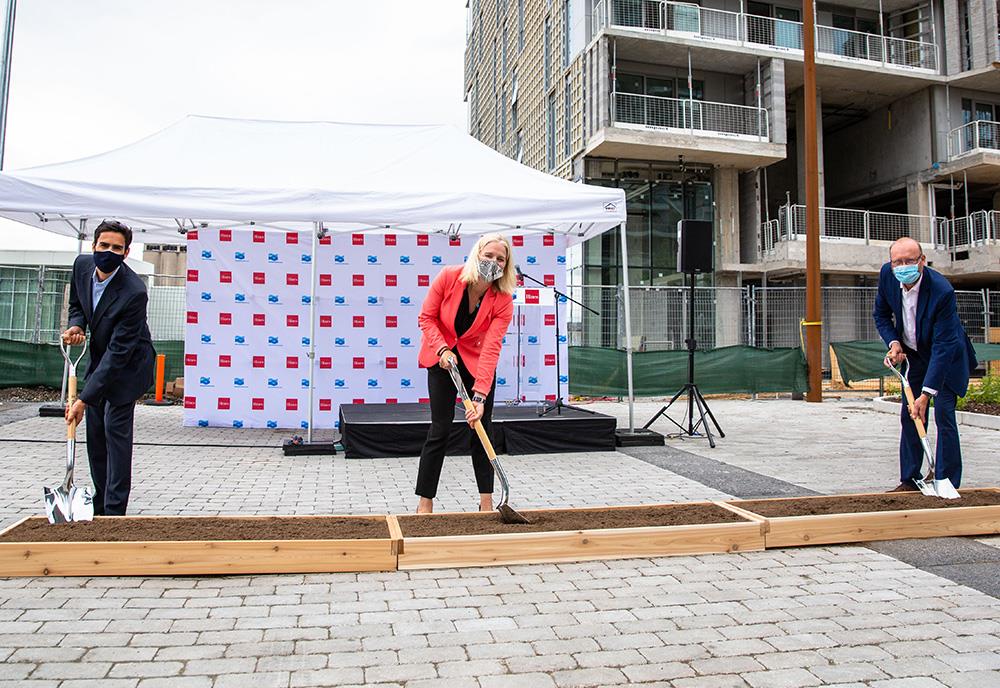 Hines and Waterfront Toronto break ground on T3 Bayside
By on Aug 14, 2020
(Left to Right) Avi Tesciuba, Senior Managing Director, Hines; The Honourable Catherine. McKenna, Minister of Infrastructure and Communities; George Zegarac, President and CEO of Waterfront Toronto. Photo credit: Geoff Fitzgerald.
Hines, the international real estate firm, has begun speculative construction on the workplace component of their Bayside Toronto waterfront master-planned community with the recent ground-breaking of T3 Bayside, which stands for Timber, Talent and Technology. The occasion was commemorated with a small gathering at the site, which included remarks from The Honourable Catherine McKenna, Canada's Minister of Infrastructure and Communities; The Honourable Laurie Scott, Ontario Minister of Infrastructure; Mayor of Toronto, John Tory and representatives from Hines and Waterfront Toronto.
The first of two twin, heavy timber office buildings at Bayside Toronto, T3 Bayside will be constructed using an innovative and highly sustainable mass timber structure, and feature market-leading amenities, all designed with the goal of delivering a completely differentiated tenant experience. At full completion, the two T3 Bayside buildings will feature over 500,000 sq. ft. of next generation office space.
"With the ground-breaking of T3 Bayside, we deliver on the commitment we made to Waterfront Toronto and to the City of Toronto to bring employment use to the water's edge," says Avi Tesciuba, senior managing director, Hines. "We are humbled and proud of the role Bayside has played in kick starting a whole wave of development along the eastern waterfront as we deliver a truly mixed-use community that will also include affordable rental housing, a day care facility and a recreation center."
Phase One will bring 251,000 sq. ft. of commercial office space to Toronto's eastern waterfront in early 2023, and feature 30,000 sq. ft. floorplates. The buildings were designed by internationally renowned firm 3XN, after the studio emerged as the winner of an international design competition. CBRE Limited has been awarded the marketing and leasing of Phase One.
"The work we do focuses on building complete communities," added George Zegarac, President and CEO of Waterfront Toronto. "We are building a waterfront where everyone can access the water, lush green park spaces to enjoy, places for all kinds of families to call home. T3 Bayside is a great example of the innovative approach we have taken over the past two decades to promote environmental sustainability as part of the foundation of our development projects."
Hines was named the master developer of Bayside Toronto, following an international competition by Waterfront Toronto. Hines brought Canada's leading condominium developer Tridel on as its exclusive residential development partner at Bayside.
Once complete, Bayside Toronto will include two million square feet of new residential housing, including market condominiums and affordable housing, modern office space, shopping and restaurant destinations and cultural venues, along with a newly activated and engaging public realm.