Home improvements encouraged by government rebates
By Serge Bojinski on May 11, 2017
Whether you're concerned about conservation, reducing greenhouse gases or saving money, the Canadian government is willing to help you complete home improvements. If you've been putting off high-cost reno projects that will reduce your heating and cooling bills or make your home more comfortable, it's time to check out these local government rebates and incentive programs.
Each community has its own list of eligible improvements, so before undergoing a major home improvement check for any new government incentives in your area. Below are some renovation projects identified by Natural Resources Canada that can save Ontario homeowners some serious cash:
Home Energy Conservation (HEC) Program—Toronto, Ontario
If you're an Enbridge Gas Distribution customer and you heat your home with natural gas, oil, a propane boiler/furnace or wood stove, you may qualify for energy upgrade rebates for materials and/or installation such as:
Attic Insulation Upgrade

Basement Wall Insulation Upgrade

Wall Insulation Upgrade

Exposed Floor Insulation

Air Sealing/Weatherstripping

Window Replacements

High-Efficiency Heating System

High-Efficiency Water Heating System

Drain Water Heat Recovery System

Air Source Heat Pump
A Certified Energy Audit must be performed
prior
to any home improvement work. This will assess your home's current energy use and retrofit recommendations will be made to reduce your energy bills and increase comfort. To see how you can benefit from the
HEC Program
review the full description of their website.
To qualify for the Enbridge incentives, your home will need to achieve a minimum 15% fuel savings with two or more recommended upgrades.
Incentive Levels$1,000
—for reaching a 15% to 24% post-energy audit fuel savings
$1,600
—for reaching a 25% to 49% post-energy audit fuel savings
$2,100
—for reaching a 50% post-energy audit fuel savings
Home Winterproofing Program—Toronto, Ontario
I know it's getting warmer now, but you want to do this before winter returns! This program is also sponsored by Enbridge Gas Distribution and includes FREE energy efficiency improvements if you heat your home with natural gas and don't exceed the maximum income requirements.
For example, if you have a family of four and your annual household income doesn't exceed $61,028, you'll qualify for this program. If your income exceeds the maximum allowance but you participate in a government assistance program such as
Ontario Works or others
, you'll receive 100% of the cost to purchase materials and install insulation and draft-proofing methods.
The goals of this program are to:
Help you save money

—if your home is more than 35 years old, you can reduce your energy use by as much as 30%.

Improve comfort and health

—by reducing drafts and air infiltration, you can balance room temperature, reduce chills and reduce the risk of illness.

Become more environmentally friendly

—by cutting down on energy use, greenhouse gas emissions are reduced and the air is cleaner.

Increase your home's value

—comfortable homes with low energy bills attract both buyers and tenants.
Save on Energy—Heating and Cooling Incentive
This program
is designed to provide financial incentives for the installation of high-efficiency HVAC equipment and is sponsored by the Independent Electricity System Operator (IESO). You can receive a rebate of up to $400 for a central air conditioning system and $250 for a furnace with an electronically commutated motor. Both units must be ENERGY STAR certified, high-efficiency and installed by a participating contractor.
Save on Energy Coupons
Even a small savings on everyday products can help offset the cost of purchasing energy-efficient products. As more and more energy draining products such as incandescent light bulbs are being discontinued, you'll want to replace them with ENERGY STAR certified fixtures, LED bulbs, ceiling fans, auto-shutoff or built-in timer power strips, baseboard programmable thermostats and more.
Save on Energy Coupons
ranging from $3 to $30 are available and are funded through IESO and offered year-round through local electric utilities.
Residential Toilet Rebate Program—Halton, Ontario
If you're
considering a bathroom reno
, you'll want to include a
Halton-approved
, water-efficient toilet. Standard toilets generally use up to 30% of the daily water consumption for a household. A new fixture can significantly reduce water use and your environmental impact.
A one-time $75 rebate will be given for the purchase and installation of a
WaterSense
-certified toilet. It is restricted to one rebate per single-family household and only available for a limited time.
Home Reno Rebate Program—Union Gas Franchise Area
If you're fortunate enough to heat your home with natural gas, oil, propane or wood and you're a Union Gas customer, you may qualify for hefty home improvement rebates totaling up to $5,000. These incentives can be used towards energy audits and renovation projects.
Select from the list below to help your home become more energy efficient, lower your energy bills and reduce greenhouse gas emissions:
Basement Insulation—Rebates of $750 to $1,250 are issued for adding a minimum R12 to R23 to the entire basement area. Rebates of $500 to $1,000 are issued for adding a minimum R10 to R23 to the entire crawl space wall. A rebate of $500 will be issued for adding a minimum of R24 to the floor above the crawl space.
Exterior Wall Insulation—You'll need to add at least R3.8 to R9 to your entire home and attain a minimum of R12 in order to qualify for a rebate between $1,250 and $1,750.
Attic Insulation—After years of settling, attic insulation compacts and becomes less efficient. By increasing the insulation from R12 or R13 to R25 to a minimum of R50, you'll collect a $250 or $500 rebate. Increasing a cathedral ceiling or flat roof by a minimum of R14 will get you $500.
Air Sealing—A simple, cost-effective way to improve energy efficiency in your home is to reduce air leaks and heat loss. Use caulking for cracks and openings plus weatherstripping for doors and windows. Receive a rebate between $100 and $150 for achieving or exceeding base target by 10%.
Furnace/Boiler—Receive $1,000 for replacing your furnace or boiler with an efficient 90% or 95% high-efficiency system. Collect $750 for replacing your wood-burning system with predetermined, certified wood-burning appliances, indoor pellet-burning appliance, indoor masonry heater or outdoor wood-burning appliance.
Water Heater—$500 is the maximum rebate for replacing your current heater with a more efficient, larger tank capacity natural gas or propane water heater. Tankless models are also eligible for the rebate check.
Window/Door Skylight—A flat $80 rebate is available for each replacement window, door or skylight. To qualify, each unit must be replaced with ENERGY STAR compliant models.
Electric Air Source Heat Pump—Install an Energy Star-certified with a SEER 15 rating and receive $500.
Smart Thermostat—Restrictions apply for the $100 rebate for this purchase. You must be a Home Reno Rebate participant and complete a post-renovation assessment after work has been completed before purchasing an eligible Smart Thermostat.
Feeling inspired to do more? If you've completed two qualifying renos, you can collect an additional $250 rebate per extra measure installed—Up to a $5,000 rebate.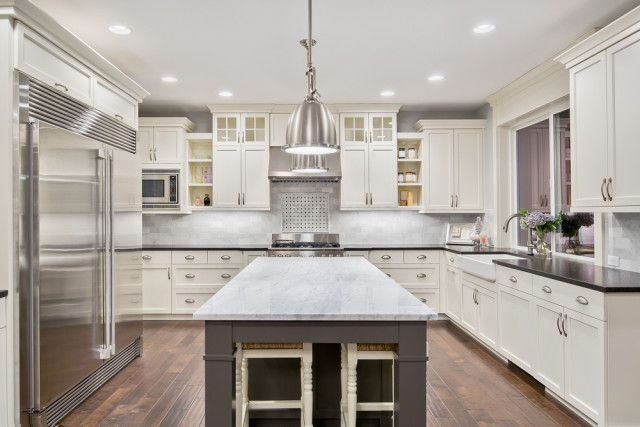 As part of a large initiative to fight climate change, use less energy, grow the economy and ultimately, create jobs, Ontario has committed $325 million to the Green Investment Fund. The Fund is fueling a surge in home improvement projects across the province and will continue to do so until funding is exhausted. 
Not all rebate programs are listed here, so check your local government agencies to see what is available before you start on your energy efficient home improvements. Taking the time to thoroughly research will save you money, make your home more comfortable, save energy and reduce your environmental footprint.
Serge Bojinski is a home improvement blogger and editor at RenoHood.com. He strives to ease homeowners lives searching for home improvement answers and quality service. Follow him on Twitter @SBojinski