How to Pick Furniture for Your New Home
By Jo-Ann Capelaci on Apr 23, 2015
Have you just purchased your new home? Perhaps you are actively looking for the right home? Studying the floor plans and deciding how you will plan your furniture should be part of your homebuying process.
Planning how you will lay out your furniture and how you will use your rooms can help in your ultimate enjoyment of the space and selection of your home. Whether designing model homes for builders or for my residential clients, planning the furniture locations early on is important for successful results. The most common mistakes I see when I go into a client's home for the first time is furniture that is too big for the room or there's simply too much furniture.
Sometimes new home builders will show furniture layouts on their floor plans as a guideline of how to use the space. Similarly before homes or condos are constructed, builders will often prepare conceptual digital renderings to give potential homebuyers a vision for how the home will look. Such was the case when I partnered with Geranium Homes to design the models for their Uptownes' site in Stouffville. I began by creating a furniture plan and then the design for the digital renderings. We even took it a step further by offering design tips to help new or potential homebuyers. In fact anyone may find these tips and the process helpful.
We chose four different design themes:
Contemporary Flair
Rustic Chic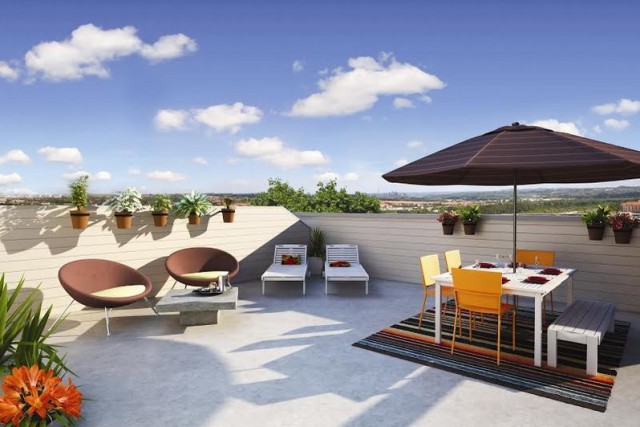 Mid-Century Modern 
New Traditional 
Then we carefully planned out the rooms with actual furniture sizes to ensure they worked well for optimizing space and function. We also showed where lighting and accessories could be placed for interest and balance. If your builder has provided a furniture plan for your home, check out the layouts carefully and see if they will work for your lifestyle.
Having a furniture plan can also be extremely helpful if you are shopping for new furniture, or to confirm if your existing furniture will fit. You can create a shopping list with sizes of the furniture you need for each room before you go shopping. This helps to establish focus when you walk into a furniture store. With a furniture plan you are also less likely to make the wrong purchase from an impulse buy. I believe the success of the Uptownes site (now sold out!) was due in part to the new ways we were able to assist homebuyers in the design process. I hope you too are inspired to create a furniture plan to make your homebuying experience more successful!