How to research new home appliances in 4 easy steps
By Serge Bojinski on Mar 28, 2017
Do you remember your first apartment? Was it really small or worn or outdated? Did you have to settle for second-hand furniture and appliances because that was all you could afford? As your first real taste of independence, you probably looked past all those imperfections and proudly called it "home."
If you're ready for an upgrade and have decided to build or buy a new home, you get a chance to recreate the vision of what your perfect home should look like. Even if you're not a first-time homebuyer, it can be both exciting and overwhelming to choose all the personalized features you want to incorporate into your new home.
Not all new homes come with appliance packages. Purchasing new home appliances can be mesmerizing with all the beautiful new finishes and state-of-the-art features, so before you succumb to the "I-want-it-all syndrome," you'd better do your research.
Step 1: Identify goals and priorities
Take inventory of what appliances you can move with you and which ones you'll want to upgrade. Even though your appliances are running fine now, think of the machine's age and its
average life span
before ruling out a new purchase.
Refrigerator:

9-13 years

Electric Stove:

13-15 years

Gas Stove:

15-17 years

Dishwasher:

9 years

Washing Machine:

5-15 years

Dryer:

13 years
Before you start shopping, you'll need a plan for fitting each machine into the space available. Refrigerators can vary with overall dimensions, so be prepared with accurate measurements that allow the fridge door and nearby cabinets to fully open.
A new washer and dryer might fit side-by-side or be stacked. How much space is available in the new laundry area? Will it be in the basement or a separate room on an upper level? The answers to these questions will help narrow your search for the perfect fit.
Step 2: Establish a budget
With the many items vying for your money, especially if you're building/buying new, you need a budget. You'll want to buy things like: window treatments, lamps, furniture, area rugs, electronics, etc. after you move in, so establishing an appliance budget first will ensure that you have enough to personalize your home.
Start researching what's available with online shopping. Appliance websites can help breakdown standard features, sizes, brands, type/variety, and options. Many sites provide side-by-side feature comparisons that will help guide you to the best product for your needs.
While you're online, look for any available financing options. Several times a year, retail centres offer promotional financing programs, generally 0% interest for an extended period of time or discount pricing for purchasing more than one appliance.
Step 3: Decide between wants and needs
With so many products and options available, it's difficult to determine what you want vs. what you need. Clever marketing techniques may also fool you into thinking you need innovative features that can significantly increase the cost of the appliance.
Beware of self-cleaning ovens
that might pose a fire risk or damage your appliance; or refrigerators with an option called
Sabbath mode
that promises that Orthodox Jewish consumers will find built-in safeguards to honour their religious beliefs.
Most appliances are available with Energy Star Certification, but also consider these essential items when deciding what to buy:
Refrigerator styles and features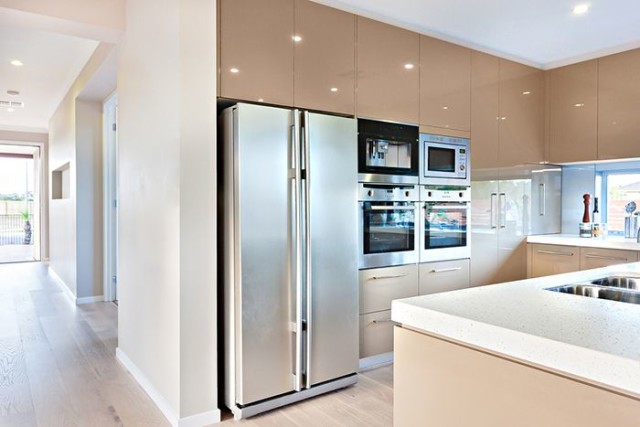 Freezer location: top or bottom

French door

Side-by-Side

Built-in

Through-the-door ice and water dispenser

Door-in-door storage access

Freshness features

Temperature controls

Higher quality shelves and drawers (i.e. tempered glass)
Stove styles and features
Electric smoothtop, electric induction, gas

Dual ovens

Expandable elements, bridge and oval burner

Convection time and delayed start features

Self-cleaning

Safety features: Hot-surface warning lights, control lockout (especially with small children in the household)
Dishwasher styles and features
Interior: Stainless steel or plastic

Interactive touchpad

Extra quiet cycle

Antibacterial mode

Energy-saver mode

Adjustable racks

Time delay
Washing machine styles and features
Top load/front load

Stackable

Steam

Automatic dispensers

Automatic temperature control

Extra rinse cycle

Stainless steel tub

End-of-cycle signal
Dryer styles and features
Stackable

Moisture sensor

Auto-dry cycles

Extended tumble

End-of-cycle signal
For each appliance, you'll find three pricing categories: budget-conscious, mid-range and high-quality. Thoroughly read through the feature descriptions to determine which items will fit your lifestyle and budget. Read customer reviews for various manufacturers and brands. This is a great way to determine what brands are most reliable and durable, as well as what features work as marketed or are a waste of money.
Keep a list of all the appliances you're most interested in. Record the features you'd like to include and any promotions or financing options.
Step 4: Visit the stores
Now it's time to put your research into action. While the Internet saves a significant amount of time in finding out what's available, actually visiting stores will give you a first-hand look at each appliance.
You can check out the quality of each component. Do the refrigerator shelves look durable? Is a high-capacity washing machine really big enough to handle an extra large load of bath towels?
Talk to a sales associate about the most popular machines and features. Ask about the financing or discounts you saw online. What does the manufacturer's warranty cover and what's the time period? Is an extended warranty available and would it cover everything the original warranty does?
Most retailers charge a delivery fee, so ask how much it would be. If your move is several months away, inquire about storage and delayed delivery options. This would save you from moving it twice and risking damage.
With the many decisions you'll need to make for your new or resale home, purchasing your appliances can be an easy process. Identify your goals and priorities, establish a budget, decide between your wants and needs, and visit the stores. Taking the time to follow these steps will make your move easier and help you enjoy your appliances for years to come.
Serge Bojinski is a home improvement blogger and editor at RenoHood.com. He strives to ease homeowners lives searching for home improvement answers and quality service. Follow him on Twitter @SBojinski