Ice Breakers: New public art installation coming to Toronto's Waterfront
By Lucas on Nov 17, 2016
The founders of the annual international design competition, Winter Stations, have partnered with The Waterfront Business Improvement Area (WBIA) to bring a new public art installation to Toronto's waterfront.
The temporary installations, collectively titled "Ice Breakers," will stand along Queens Quay from Yonge to Bathurst from January 21st to February 26th (2017). Ice Breakers is supposed to encourage people to explore Toronto's waterfront during the winter season.
"Design is a powerful motivator," says Roland Rom Colthoff, principal at RAW design and a Winter Stations co-founder. "The Waterfront is one of Toronto's busiest communities in the summertime but, like The Beach, it can be under-appreciated as temperatures drop. Like Winter Stations, Ice Breakers is an interactive celebration of public art. We want to nudge Torontonians back outside and inspire them to keep engaging with the city."
The Harbourfront area is beautiful in the winter and there are always outdoor and indoor events along Queens Quay. Based on the concept renderings, we think that Ice Breakers will definitely attract larger crowds down to the water at the beginning of 2017.
"We are thrilled to be working with the team behind Winter Stations on this brand new exhibition," says Carol Jolly, Executive Director, WBIA. "Following the completion of the revitalized Promenade, we wanted to bring an interactive and design-centric event to the area. Ice Breakers will be our marquee winter event and our hope is to encourage people to get out and discover the beauty of the Toronto Waterfront, all year round."   
Ice Breakers participants include all three of the Winter Stations founders; RAW, landscape architects Ferris + Associates, and public art consultancy Curio. Polymetis, a Toronto-based design team, and Denmark design studio, Platant, will also be participating. See below for the public art installations that will soon stand along Queens Quay!
'Leeward Fleet' by RAW, Canada Square, Harbourfront Centre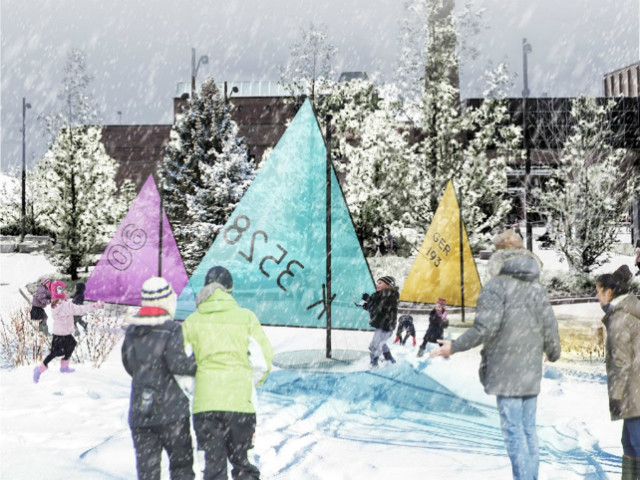 These three pivoting structures are inspired by the sailboats seen on any spring or summer day on Lake Ontario.
'ICEBOX' by Polymetis, HTO Park
Inspired by the contrasts of a Canadian winter, ICEBOX is designed to be a place of introspection and social interaction, a place where you can appreciate winter alone or with a group.
'Winter Diamonds' by Platant, Music Garden East
These solid, shimmering structures are inspired by the fragility and harshness of winter. They are reminiscent of geometric icicles, which is an interesting way to think about winter in Toronto.
'Incognito' by Curio Art Consultancy and Jaspal Riyait, Rees Street Parkette
Inspired by architectural massing models and donning the same camouflage technology as warships, Incognito forces passersby to contemplate a cityscape with invisible structures.
'Tailored Twins' by Ferris + Associates, Peter Street Basin
These hands will stand three meters tall and feature gold palms. The palms are gold mirrored to reflect sunlight onto the basin, symbolically heating the area.
We can't wait for this new public art installation to pop up on Queens Quay!