Insuring Your Home
By on Apr 08, 2008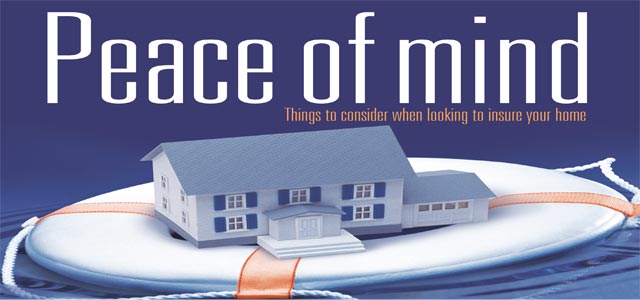 By Marcia Luke
Though we grumble about how much we have to pay for it, home insurance seems a necessary function. Without home insurance fire, theft, or other damage to your home and belongings could be financially devastating. But there are many things you can do to help lower the cost of your home insurance and increase your protection at the same time.
One of the major factors to consider before buying your home is location. Living in a neighbourhood deemed unsafe, geographically unsound, or at an increased risk of weather damage can affect your home insurance rates. Your proximity to fire stations and fire hydrants can also impact your premium. The closer you are to help, the faster you can get it, thereby lessening the damage or cost to be claimed.
Tina Toste, manager of the Personal Insurance Division at Insurance Management Inc., says that before you approach a broker or agent you should find out as much information about your home as possible. "We complete a home evaluation guide with the client to help determine the cost of rebuilding the home. Because many new homes are mass-produced, the builder's cost may be much less than the cost to rebuild a single home."
You will need to know when the home was built, the square footage, the type of construction (including frame, basement, roof, etc.), when the wiring, plumbing, heating, and roof were last updated, and whether there are any additional features like air conditioning or fireplaces.
Your decision to buy new or resale will also be a factor. Toste says that most insurance companies offer new home discounts at 10 to 15 per cent for a home up to 10 years old, mainly because new homes have new roofs, wiring, plumbing, and heating and therefore are less susceptible to fire. "The chance of fire caused by faulty wiring is less [in a new home] than in an older home," Toste explains.
If you do buy resale, replacing your roof and upgrading your heating, plumbing, and electrical systems will help to reduce the risk and your insurance rates. In very old homes it may be necessary to replace elements like wiring before being able to qualify for insurance. After you move in, you can save money by installing security systems (especially those linked to third party supervision), smoke detectors, carbon monoxide detectors, sprinkler systems, deadbolt locks, and electronic or automatic natural gas or water shut-off.
Ask your broker or agent when shopping around for quotes about the discounts they offer and their service record. Most insurance companies offer a multi-policy discount if you have your home and car insurance with the same company, and sometimes even a longstanding policy holder discount. If for instance you've already paid off your mortgage or you are a non-smoker, you may be eligible for a discount. If you're retired your home is considered more secure because someone is home more often and at more random intervals. Select the highest deductible that you can reasonably afford, the minimum is usually $500. This way your monthly rate is reduced and, in most cases, your savings over time make up for the added cost of the deductible and then some. Plus, you only pay thedeductible if you submit a claim.
One of the many assumptions that people make when getting home insurance is that the market value of your home must be covered. This is not true?you only have to cover what it costs to replace your home (construction, etc.) and this does not include the cost of the land your home is built on. Little will damage the land to the point that you can't rebuild on it. It won't be stolen or consumed by fire. Avoid covering something that doesn't need it.
Several institutions have online calculators that can give you an estimate of what your home insurance rates should be. Using one Internet calculator, we found that a home in Toronto with a replacement value of $200,000 less than 10 years old would average a rate of $500 to $800 annually.
Lower rates do not make up for inadequate service if you submit a claim. Look at the insurance company's track record with claims and service so that you feel comfortable with your choice. You should also investigate their privacy policy to ensure that your personal information will be kept in confidence. In the event that you have a question about a claim, it is advisable to inquire through a broker. If you contact your insurance agent directly in the event of an incident, (even though it is only an inquiry) it is recorded and could be considered a 'claim'.
The most important thing you are responsible for is to keep an updated record of your belongings. Take photos or videos of your home's contents and store them somewhere away from your home. Articles like jewellery, silver, furs, coin collections, or anything that might have a high value may not be entirely covered under your home insurance.
"Valuable articles are covered only up to a specified limit?if your valuables exceed the limit then additional coverage is necessary," says Toste, adding this is one of the most overlooked items when homebuyers purchase home insurance.
Inform your insurance broker or agent of any changes to your home and its inhabitants or contents, so that you are always adequately covered. All of these suggestions will not only help you to optimize your insurance policy and save you money, but they will keep you and your new home safe and sound.
Named Perils - Coverage that includes only what is named, such as fire, windstorm, explosion, theft, hail, and electrical current.
Deductible - The amount of money the insured party must pay before they will be compensated.
Premium - The amount the insured party pays regularly to receive insurance coverage.
Insurance Broker - A professional who buys or sells insurance for others, using several different insurance companies to shop from.
Insurance Agent - A professional who represents a single insurance company.
Actual Cash Value - Covers the contents of the home for the original value of any item (after deductions for depreciation, age, or wear).
Replacement Cost Coverage - Covers the cost of replacing any item with an item of equal quality (usually an amount equivalent to 80 per cent of your home's replacement value is required coverage for the policy).
Comprehensive/All-Risk Policies - Lists exclusions to the policy and covers what isn't listed (usually things like earthquake, war, nuclear accidents, etc. aren't covered).