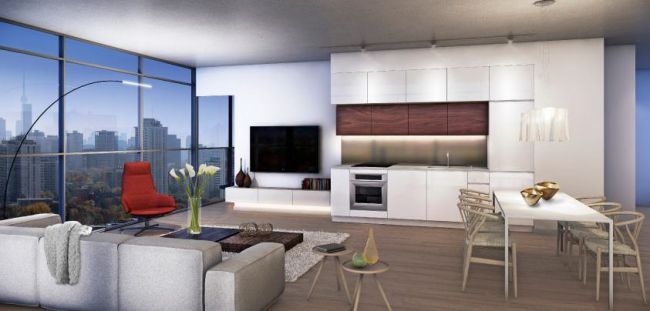 First Interior Rendering of 155 Redpath
By Lucas on Apr 18, 2013
Last month, we introduced you to the first exterior rendering of 155 Redpath, a new condominium project by Freed Developments. Well, the good folks behind the 155 Redpath Facebook page released the first interior rendering on April 17th, and it looks pretty great!
The Interior of 155 Redpath
Designed by Johnson Chou Inc., the suites of 155 Redpath will offer an array of excellent features that one should expect from exquisite high-rise living. It appears that the suites will boast a modern style, with sleek kitchen features and the option for light coloured flooring. Also, we're really excited about the open concept floorplans Freed is offering at 155 Redpath - the spaciousness and those floor-to-ceiling windows create a luxurious, yet calming environment.
The Location of 155 Redpath
Located at the corner of Redpath and Roehampton, to the north east of Yonge and Eglinton in Toronto, 155 Redpath is at the heart of it all. Midtown is booming right now, and 155 Redpath is your chance to be a part of it. The neighbourhood has a wonderful mix of restaurants, boutique shops, cinemas, bars, and excellent transit options. On top of that, the area also features a significant amount of green space, with Sherwood Park, Sunnydene Park, and Blythwood Ravine Park all a short walk away.
Freed Developments staying busy
Freed Developments continues to be one of the busiest developers in the City of Toronto. In addition to their work in the King West area, Freed recently purchased 2131 Yonge St. with the intention of redeveloping the current 'Art Shoppe' into a twin-tower condominium. Freed is also busy with their Sixty Colborne project at the corner of Church and King St. East - a project that has captured the attention of many in the Greater Toronto Area because of its sleek design.
We will continue to keep our eyes out for new information on 155 Redpath, Freed's latest project in midtown Toronto.