Kylemore celebrates Chinese New Year with a big announcement!
By Newinhomes on Feb 27, 2018
Left to right: Kylemore Team – Craig Brown, Sharon Comeau, Mariam Aboutaam; Mayor Frank Scarpitti; Tory Stollery; Cailey Stollery; Frank Spaziani
Kylemore Communities/Angus Glen Development recently hosted a Chinese New Year's celebration at The 6th Angus Glen condo in Markham. They took the opportunity to unveil some exciting plans for the next 20 years!
Markham mayor, Frank Scarpitti, local councillors, as well as Cailey Stollery, CEO Kylemore and Angus Glen Group of Companies, and Frank Spaziani, Vice President Kylemore Communities, were in attendance for the special occasion.
Guests were treated to a buffet dinner, live music, a photo booth experience, and a captivating Lion Dance show.
With two decades of prominent, high quality, luxury building in Markham, we are very eager to see what Kylemore has in store for the future.
Over the next few years, Kylemore will be launching three new communities in Markham with working names, Langstaff Gateway, York Downs, and North Lands.
Langstaff Gateway will be located between Yonge and Bayview Ave., near Hwy 407. York Downs will be bordered by 16th Ave., Kennedy Rd., and Warden Ave. North Lands will be north of Major Mackenzie Dr., east to Elgin Mills Rd. East, between Kennedy and Warden.
Left to right: Cailey Stollery, CEO Kylemore and Angus Glen Group of Companies; Tory Stollery, Board Member; God of Fortune; Frank Spaziani, Vice President Kylemore Communities
If you're familiar with all the stunning homes comprising the Angus Glen community, then these big plans should have you excited, especially if you're considering buying a new home in Markham.
"We have exciting plans for the next 10 to 20 years and our focus and commitment remains in Markham," said Cailey Stollery. "We wanted to provide our key supporters with an overview and the Chinese New Year seemed an auspicious occasion for this."
The event was hosted in the recently completed amenity spaces for The 6th Angus Glen, which are beautifully designed by Mike Niven Interior Design Inc. The award-winning condo is nestled next to the Angus Glen golf club, offering stunning views and a prestigious address.
"It was timely for us to showcase The 6th as it will be the template for our future mid-and high-rise product," said Spaziani. The 6th Angus Glen has a "handful" of suites available with 30-120 day closings and prices from the mid $700,000s.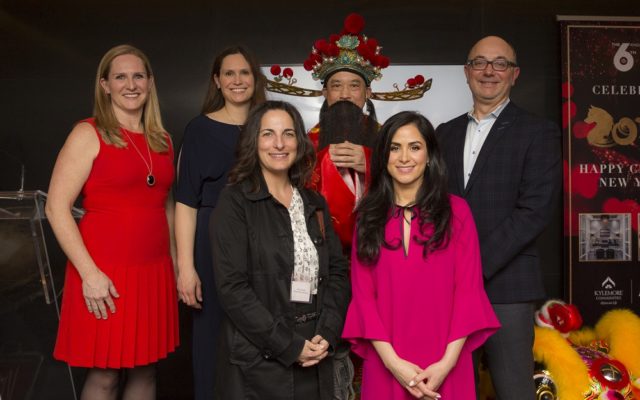 Visit The 6th Angus Glen
Now is the time to jump on the final release of suites at The 6th Angus Glen. The resort-style condo is ideal for empty nesters looking to retire in style.
The Angus Glen community has won many awards, including the 2017 Heritage Markham Award of Excellence, the 2014 Markham Design Excellence Award, and the Building Industry and Land Development Association's (BILD) 2013 Places to Grow Community of the Year.
To learn more about the available suites at The 6th, visit the presentation centre at 4500 Major Mackenzie Dr. East Monday from 1 pm to 6 pm or call 905-887-9950 to book an appointment for Tuesday to Friday.