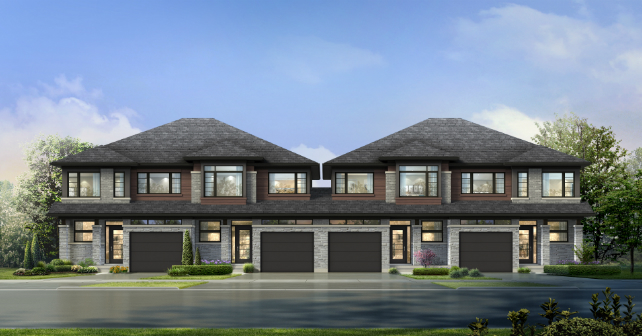 Losani Homes is opening Madison at Central Park to VIPs in April!
By Lucas on Mar 20, 2017
We have some exciting news for homebuyers on the hunt in Hamilton - Losani Homes will be opening Madison at Central Park to VIP registrants at the beginning of April! Madison is the second phase of the highly-anticipated master-planned Central Park community, located at Upper Red Hill Valley Parkway and Rymal Road East.
Madison features a collection of urban townhomes, including back-to-backs, three-storey models, and two-storey models. This is your last chance to register before invites start getting sent out for VIP access.
For the back-to-backs, prices are starting in the low $300,000s; perfect for first-time buyers and young couples looking to move-up from their smaller condo in the city. The three-storey models are also ideal for first-time buyers and young couples with prices starting in the mid $300,000s. The two-storey townhomes offer slightly larger floor plans, so families with plans to grow may gravitate towards these options, and prices start in the low $400,000s.
The fact that there are new low-rise options for first-time buyers says a lot about the value that Losani Homes is bringing to Hamilton with the Central Park master-plan. The Building Industry and Land Development Association (BILD) recently released its new home sales figure for January 2017, announcing that the average price for a new townhome in the Greater Toronto Area (GTA) hit $879,619.
It's clear why many first-time buyers are looking outside of the GTA to Hamilton and surrounding areas to realize their dream of homeownership. It's also not surprising that singles and couples are selling their condo units to move-up into a larger home just 40 minutes from downtown Toronto.
In BILD's report, it says the average price for a new townhome in the GTA was $328,989 a decade ago. Over the next 10 years, it's possible that Hamilton values will see a similar surge due to the amount of development in the works and strong interest from families, making Madison a great option to get into the market and a sound investment!
BILD also stressed the lack of new low-rise inventory in the GTA, which is playing a factor in the rising prices. As of the end of January 2017, there were only 1,524 new low-rise homes available across the GTA. When you think about that low number and the amount of people you're competing against at new openings, getting in line and buying a new home in the GTA can be a stressful process!
Losani Homes is known for their boutique approach to opening new communities, even when there is a lot of interest like at Madison. They have a detailed reveal program that gives VIP registrants access to project information gradually, so when it's time to purchase you are fully prepared to make a decision.
At your preview, you receive an informative presentation, brochure package, and model-specific starting prices. Later in the week, you are able to conveniently book your sale appointment online. Losani Homes wants their buyers to be well-informed and confident in their purchasing decision.
"We treat our prospective purchasers with the respect they deserve," said Fred Losani, CEO of Losani Homes, when we interviewed him last summer. "Our goal is to provide a pleasurable and educational buying experience in a no pressure, comfortable environment. It goes so smoothly and has such an air of calm about it – I think it's the way all homes should be sold."
Register for Madison at Central Park!
As mentioned, Losani Homes will be opening Madison to VIP registrants at the beginning of April, so now is your final opportunity to register to receive exclusive details and priority invites.
Whether you're single, a couple looking to start a family, empty nesters, or a growing family, Madison has incredible urban townhome options for you.
Visit www.mycentralpark.ca for information!