Menkes, Greystone, and Triovest present big plans for the LCBO site in Toronto
By Sam R on May 09, 2016
Working down here at 1 Yonge, we're near enough the Queens Quay East LCBO site that I've always taken a personal interest. The waterfront itself, in fact, feels personal from here, so I am excited to see the big changes that are happening.
For the past couple of years, we've been teased with possibilities as the provincial government in 2014 finally decided to seek bids for the 11-acre LCBO site. Rightfully called one of the most valuable properties in both the government's portfolio and in all of downtown, it was predicted in the 2012 budget to fetch in excess of $200 million.
The LCBO-owned site houses a large warehouse, parking lot, nondescript park (the details of which I'm hard-pressed to bring to mind, even sitting at my desk just a block away — there's a park there?), company headquarters and, about the only highlight, its flagship store. The sale announcement a year and a half ago came after years of speculation and it's been an even hotter topic since.
The site would come with some restrictions: there needs to be a place for the store and headquarters, affordable housing and community assets such as parks, and there are density and use regulations in place. My wish has been that it would simply be interesting, and give people a reason to hang around the neighbourhood after 5 o'clock.
Last week, we finally got confirmation of a sale, and some new reasons to hope. Finance Minister Charles Sousa said Thursday that the parcel has been sold for $260 million, to one of six bidders: a partnership of Menkes, Greystone Managed Investments and Triovest Realty Advisors. The money, he says, will go towards transit infrastructure projects now underway.
View of main entrance of proposed office tower at 100 Queens Quay East. Image courtesy of Menkes Developments Ltd.
The trio of purchasers say construction will start in fall 2017 with anticipated completion in 2021. The mixed-used development will have a live-work-play theme. In addition to a 24-storey green-standards office tower that will be about one-third occupied by the LCBO store and offices, the development will include 300,000 square feet of commercial space and residential units, and a two-acre park. The property also has a heritage designation that will have to be considered, likely involving the façade of the north LCBO building.
In a release, Menkes said they're planning for future expansion of Harbour Street, which now ends at Yonge, and that the park that will anchor the site will be subject to a design competition. The office tower is designed by B+H Architects, the firm responsible for Brookfield Place (formerly BCE Place) and the TD Centre, and will be built to LEED Platinum certification standards for environmental sustainability.
"There is strong and growing demand for new, high-quality office space in downtown Toronto," said Peter Menkes, President of the Commercial / Industrial Division of Menkes, in the release. "Corporations and their employees have a desire to be in the core, close to Union Station and the revitalized waterfront, and in a leading-edge facility that is built and operated in the most environmentally sustainable manner."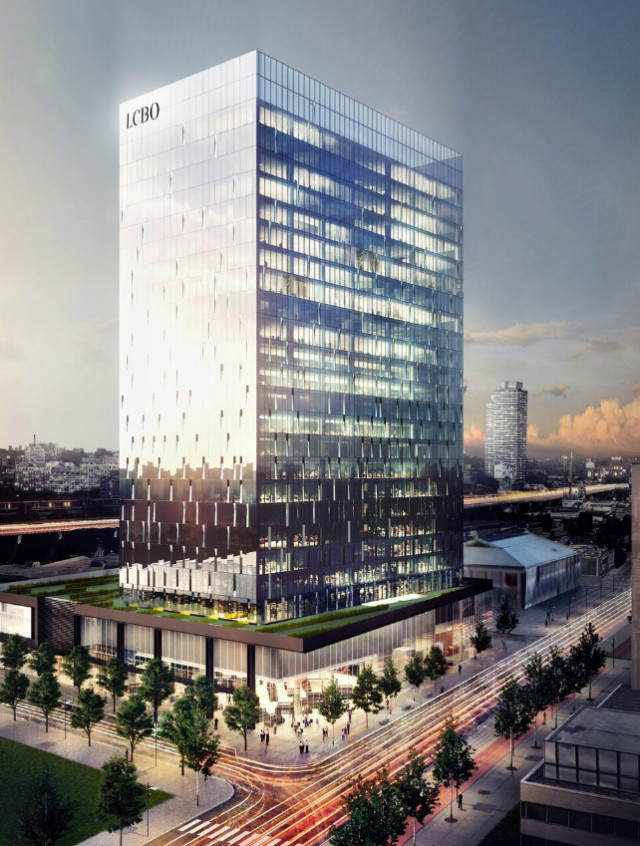 View of proposed office tower at 100 Queens Quay East. Image courtesy of Menkes Developments Ltd.
The developers are in the process of submitting an Official Plan Amendment, Rezoning By-Law Amendment and development applications to the City.
"We look forward to working with the City of Toronto, Waterfront Toronto and local residents as we move through the development approvals process. Our goal here is to create a dynamic, multi-dimensional, 24-hour community that meets the diverse needs of the future population who will work, live and play here, while also paying tribute to the history of the site," said president Alan Menkes.
I'm hoping the 24-hour part is true — the area becomes a virtual wasteland once office hours are over. The trio bring enormous experience to the project: Menkes is responsible for Empress Walk, a now-bustling mixed-use community in North York, as well as the Four Seasons Hotel & Residences in Yorkville and the LEED-Platinum 25 York (TELUS House) office tower, so their development experience isn't limited to residential. Greystone reportedly has $31 billion in assets under management, and Triovest has a portfolio of office, retail, industrial and mixed-used properties valued at about $7.5 billion.
Looking forward to watching this new addition to Toronto's waterfront come to life from my office window!
Feature image: View of flagship LCBO store at base of proposed office tower at 100 Queens Quay East. Image courtesy of Menkes Developments Ltd.