New Condo Headed to University and Dundas!
By Penny on Jun 27, 2014
Amexon Development Corporation has unveiled the Residences of U Avenue, Toronto's newest iconic development in the heart of downtown Toronto.
Core Architects and Amexon Development Corporation are calling this new skyscraper "uncompromising, unparalleled, undeniably Toronto's most iconic address." Built on the foundation of an existing 18-storey office building, U Avenue will add 37 floors of residential units and renovate the office floors in an inspired contemporary style that unites the love of water, outdoors and creative living.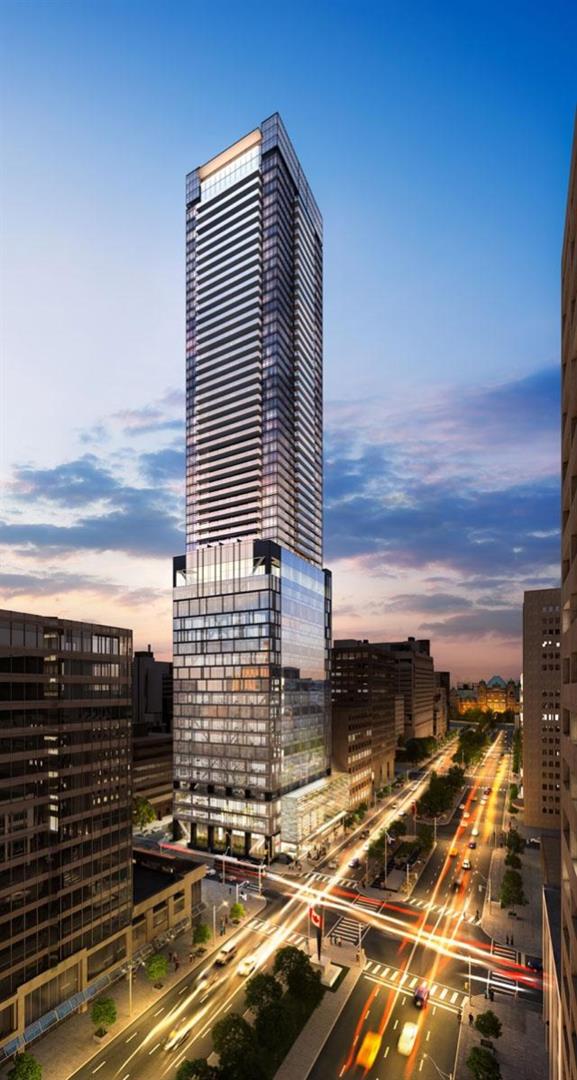 Via uavenue.com
With each design phase, the building's facade has shown evolutionary progress, and now the building is complete with a jewel-box feature, highlighted by horizontal barred dashes throughout. Tapering in slightly towards the top, coming to a full rectangle, the building will surely beautify the Toronto skyline with contemporary attitude and style.
Emphasizing comfort and luxury, II By IV Design Associates have taken extra care in designing state-of-the-art amenity spaces. Residents will take elevators to the 19th floor where they will take advantage of over 30,000 square feet of lifestyle conveniences. The double-height windows in the SkyClub will provide one of the best views of the city,  overlooking University Avenue's grand avenue. Other amenities are spread out between two full floors, including spaces designed to help residents relax, work out, socialize, lounge around indoors or outdoors and of course, have a drink and a bite to eat.
Via uavenue.com
Located in the highly coveted area of Toronto that connects the fashion, arts and business districts, U Avenue provides residents with the ultimate convenience, mirroring the "elegant, vibrant and graceful" society it will be built around. Scoring an outstanding 100 on walkscore.com, 480 University Avenue, is a "Walker's Paradise," meaning a car is not necessary to complete daily errands. Only a short stroll to preferential dining, there are plenty of quality fast-food places and bars nearby, as well as top-rated Toronto restaurants. Practically a shopping haven, this location will keep fashion enthusiasts satisfied with the latest trends at H&M, Zara, Wilfred, Guess, Aldo and many more!
Via uavenue.com
There's always something to do in the heart of the city; residents will discover Toronto's cultural diversity here, with plenty of museums, theatres, music venues, sporting facilities and dance studios to choose from including: The Hockey Hall of Fame, the Rogers Centre, The Princess of Wales Theatre, the Design Exchange and so forth.
To learn more about the Residences of U Avenue, visit uavenue.com