New exterior rendering of Daniels DuEast Boutique
By Newinhomes on Mar 13, 2018
Looking forward to the launch of Daniels DuEast Boutique – East Residence in Toronto? Well, we just received another sneak peek of the building! Daniels shared the exterior lobby rendering and some interesting news about the design approach.
If you live in a condo already, you know what it's like to have a lobby. You likely pass through it every day, wave hello or nod to your concierge, occasionally check the mail or stand around waiting for your UBEReats to arrive, and that's about it.
At DuEast Boutique, Daniels is reimagining the lobby as an extension of your home. The lobby will be a place to rest and relax, greet friends, and hang out with neighbours.
Rendering cropped to get a closer look. Stay tuned for the actual interior rendering coming soon!
The lobby will not have a concierge and there will be soft seating and a fireplace. The neutral palette will serve as a backdrop so the work by local artists adorning the walls really stands out.
Throughout the Regent Park revitalization, Daniels has demonstrated a variety of strategies to form and solidify a tight knit community within a condo atmosphere. They have introduced exciting amenities for children, family sized units, gardening plots, and other interactive communal spaces.
The twist on the traditional condo lobby is yet another example of Daniel's incredible sense of innovation and pure community building. At the moment, we only have the exterior rendering, but we've been told that the interior rendering is coming soon, so keep your eye out!
Register for Daniels DuEast Boutique – East Residence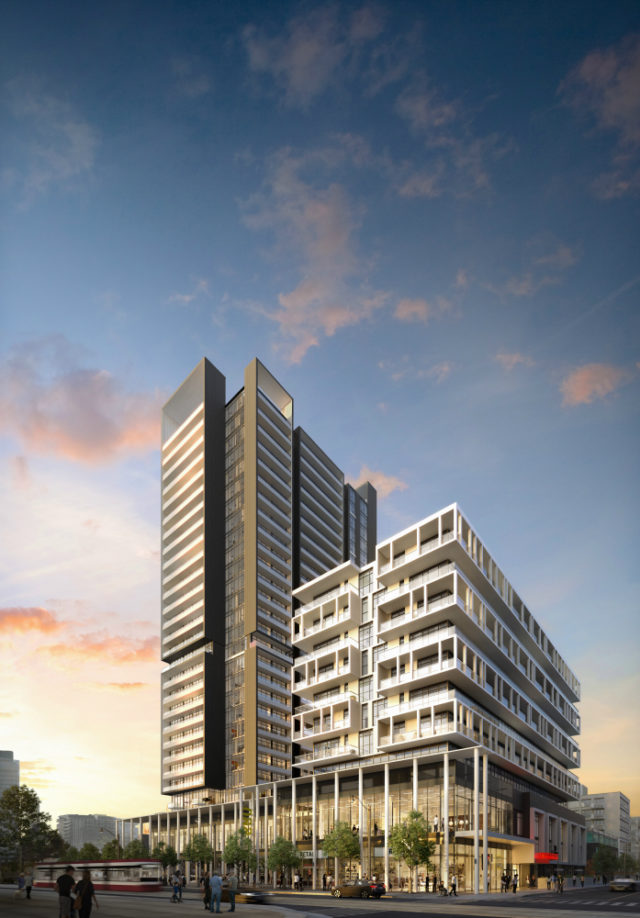 There will be 119 suites at DuEast Boutique, featuring one-, two-, and three-bedroom floor plans, perfect for singles, couples, and families!
First-time buyers should be extremely eager to receive more info about DuEast Boutique because Daniels is offering the BOOST program at the time of launch, meaning you may qualify for a 10% interest-free and payment-free loan to go towards your down payment!
In addition to the stunning design, wide variety of suites, and attractive first-time buyer program, DuEast Boutique is surrounded by a wealth of neighbourhood amenities including schools, shopping, dining, transit, a six-acre park, and the aquatic centre!
Prices at DuEast Boutique will start from the mid $300,000s. Register today to stay in the loop and receive an invite to the first opening!