Average Price for New Low-Rise Hits $667,667
By Lucas on May 23, 2014
As of the end of April, new home sales in the Greater Toronto Area (GTA) are still climbing at a rapid rate, announced the Building Industry and Land Development Association (BILD) in a recent press release.
According to RealNet Canada Inc., BILD's trusted and most reliable source for new home market intelligence, there were 3,243 sales in April, which is a 17% increase compared to April 2013. The total year-to-date sales is up 46% compared to 2013.
"Our industry continues to build quality, complete communities that people can afford to purchase," says BILD President and CEO Bryan Tuckey. "Year-to-date sales are well above the 10-year average, which means GTA residents continue to view the high-rise market as an affordable path to homeownership."
The low-rise market saw the biggest influx of sales compared to the same period last year with a whopping 83% increase, but sales are still slightly below the 10-year average. The high-rise market saw 19% less sales than in 2013 thanks to a limited amount of launches in April. Even though the high-rise market did not perform as well as last year, condo units in Toronto were still the most popular home type with 1,189 sales.
New home prices in the GTA
The RealNet Price Index is the average asking price for available new homes with the extremes excluded. The average price for a low-rise home in the GTA in April was $667,667, which is a 6% increase compared to last year April. The average price for a high-rise home in the GTA in April was $437,366, only a 1% increase.
As you can see in the RealNet chart below, the average asking price for a new high-rise home has been levelling out over the past couple years, while the average price for a new low-rise home is still on a steady rise, in fact, it's higher than it's ever been, practically doubling over the past 10 years.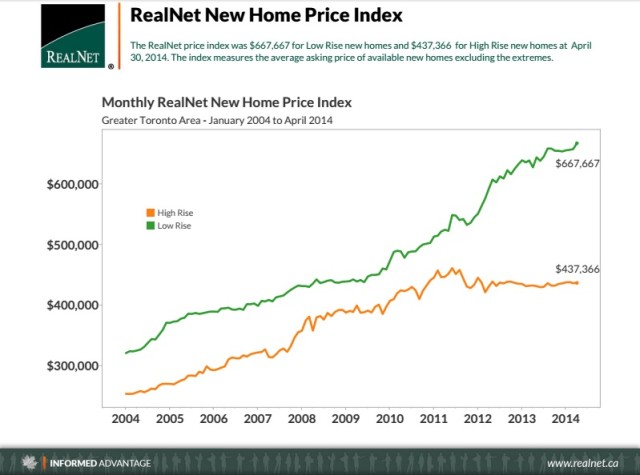 Where will the new home market go from here? Will the rest of 2014 see a dramatic rise in prices and decrease in inventory? Will the average price for a new low-rise home hit $700,000? Currently, the average selling price for a resale detached home in the City of Toronto is well over $900,000. So, even though new low-rise is pricier than ever, it is still a better deal than resale in many cases.