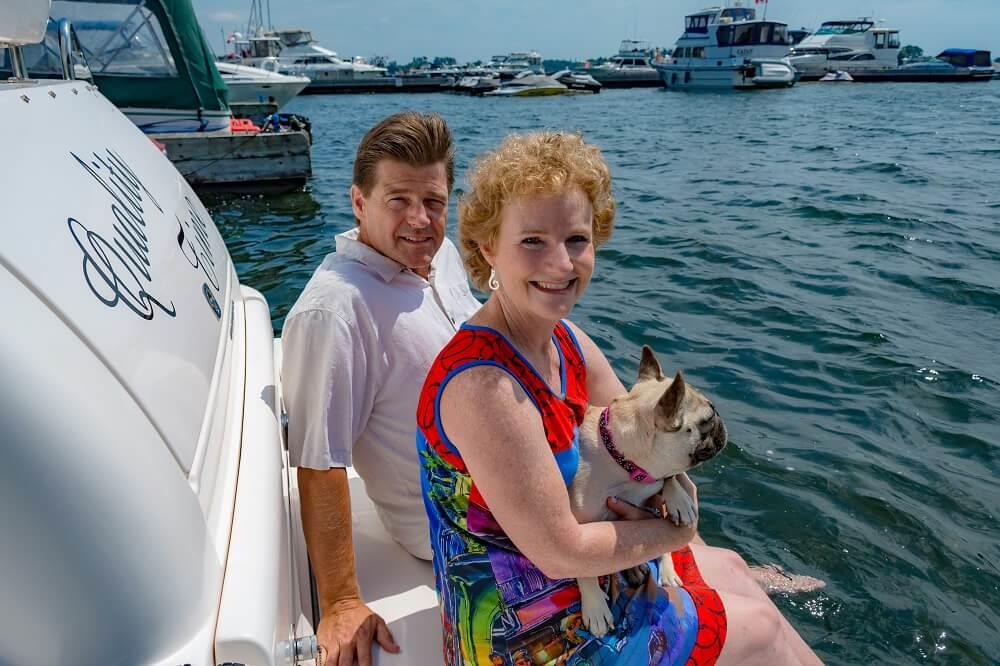 Oakville couple purchases at Stone & South Condos in Gananoque!
By Newinhomes on Jul 24, 2018
We recently had the opportunity to visit Gananoque to learn more about Stone & South Condos by CaraCo Development Corporation. The two-day trip convinced us the area is an amazing cottage alternative, and now we have positive feedback directly from a purchaser!
Marcia Franklin and Sheldon Warman from Oakville, Ontario recently purchased a 1,056 square foot corner suite with a wraparound balcony at Stone & South Condos. Marcia is an athletic therapist who was on the Canadian Olympic team in 1996, 2000, and 2004. Sheldon is a structural engineer specializing in forensic engineering. They both own their own businesses and retirement is on the horizon.
"We have a 29′ 6″ Regal Sport Cruiser docked in nearby Port Credit, and have boated to the Gananoque area every summer, for the past eight years," says Marcia. "We dock at the public marina there, but once we move in, we'll have our own slip right out the front door on the water. While we do like the idea of a cottage, we don't want the maintenance work that comes with owning. At Stone & South, we'll be able to jump in our boat, come back, walk a block or two to have a nice dinner and not worry about fixing the dock, mowing the lawn, and all that homeownership entails. For a small town, Gananoque has a surprising number of good restaurants. Plus, we'll live right next door to the Thousand Islands Playhouse which is a nice added attraction. And, our long range plan is to spend even more time in Gan when we get closer to retirement."
The boat slips at Stone & South Condos come in three sizes; 30', 35', and 40'. While we were in Gan visiting the CaraCo team, we learned they are estimating there will be approximately 35 slips built. So far, half of the purchasers have bought a slip with their suite.
"With the two of us being so busy running our businesses, I look at a cottage as an additional job," adds Sheldon. "The work involved is the biggest complaint of the people I know who have cottages. Our leisure time is too precious to waste on more work. Plus, a few years ago, when we started boating in the Thousand Islands, we just loved it. Unlike boating on Lake Ontario, there are always islands we can tuck in behind to get out of the wind. We use our boat more in that area than we do in Port Credit because there's more to see and do. In Port Credit I feel like our boat is a glorified picnic table on the water."
The slips at Stone & South Condos are much-needed because the public marina in the area is often quite busy and the slips are either all owned or rented out already. The slips at the condo will be private and they can not be rented to the public, so only owners and their visitors will be using them.
"People in the GTA tend to think of going to Muskoka for cottaging and boating," says Marcia. "They take up their food, do the cooking or drive into town to eat. In Gananoque, we will be able to walk out the door and access several restaurants, have a few drinks and walk home. It will be more like a vacation."
We had the pleasure of attending a couple great restaurants during our stay in Gan, and we also took in a show at the Playhouse, which is steps from the new condo on the waterfront. Gan definitely has a weekender vibe and we can see why more couples from the GTA are considering the area for retirement.
"We will have an unobstructed view of many of the Thousand Islands and from the kitchen, I can look south and west for eye catching sights," says Marcia. "Another benefit for us is that Stone & South is pet friendly. There's an off-leash area right on the property and Stella, our French bulldog who is an important part of our family, will certainly enjoy her new home as much as we will."
To learn more about the available suites at Stone & South Condos, visit the Discovery Centre at 5 King St. East, Gananoque or call 613-876-2524. Prices start at $488,900.