One6Nine Jones Townhomes opening soon!
By Lucas on Oct 06, 2015
Known for its historic architecture, small shops, and village-like atmosphere, Leslieville has become one of Toronto's most exciting up-and-coming neighbourhoods. Well, the area is about to get even more interesting with Lifestyle Custom Homes launching One6Nine Jones Townhomes on October 7th!
One6Nine Jones will be comprised of just 12 townhomes, ranging from 1,300 to 2,400 square feet, with prices starting in the upper $600,000s. Depending on the floor plan, you will have access to either a backyard or spacious rooftop terrace, both of which will have gas barbecue hook ups.
Lifestyle Custom Homes is going all out with interior features and finishes, including 9' ceilings, pre-finished engineered wood flooring, custom designed European cabinetry, quartz countertops, stainless steel appliances, and porcelain and ceramic tile.
One other very impressive feature that we actually haven't seen offered in a new housing project before is an above ground, indoor, heated parking stacking system. This will save space and time when it comes to building the condo, and residents won't have to drive underground and take an elevator to get home.
Located at 169 Jones in the heart of Leslieville, the townhome community will rise right next door to a church, which is currently being redeveloped into luxury lofts. With One6Nine Jones' modern-contemporary design by OPEN Architects and the heritage style church lofts right next to each other, these two sites will surely do wonders for the evolving Leslieville streetscape.
If the neighbourhood and incredible designs aren't enough to woo you over to the sales centre on the evening of October 7th, then we will give you one more reason: The Oculus Rift model suite tour.
We had the opportunity to get in and get a sneak peek of the sales centre and Oculus Rift tour, where we spoke with David Payne, the CEO of Invent Dev Inc., the company behind the design and operation of the model tour.  
"When it comes to virtual reality, it's a long step forward compared to 2D floor plans. Generally today, when someone walks into a sales centre they're tasked to try and understand a 2D floor plan, trying to figure out the layout, the dimensions, the finishes, and that's hard for anyone," explained Payne.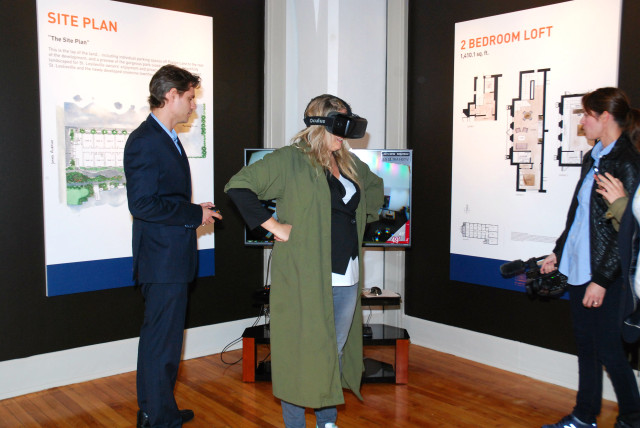 Of course, we gave it a spin, and we have to say, it was pretty impressive. We didn't think that the virtual reality tour would give a realistic depiction of the space, but it really did. We walked through the entire main floor and up the stairs to the bedroom. We could even see what other features looked like with the click of a button.
"It's more engaging and more interactive, and gives the consumer the confidence to make a decision because they can actually see it," Payne added. "For the developer, they can potentially reduce or eliminate the number of model homes they have to build. In the case of this project, they don't have a model home."
Attend the One6Nine Jones grand opening!
The One6Nine Jones grand opening will commence at 6 pm on October 7th and go until 10 pm. There will be live music, hors d'oeuvres and a lot of information about the beautiful townhomes.
We also had the opportunity to chat with Michael Wywrot, a partner at Lifestyle Custom Homes, who told us that there are over a couple hundred people registered for the project. That's quite a bit considering there are only 12 homes available and they've only been pushing the marketing angle for about a week.
If you want to check out what Lifestyle Custom Homes has to offer at One6Nine Jones, then attend the grand opening and try out the Oculus Rift model suite tour!