Pharrell Williams collaborating on new condo in Toronto with Reserve Properties and Westdale Properties
By Newinhomes on Nov 06, 2019

No, Pharrell Williams was not in Toronto yesterday, but his face did take over Yonge-Dundas Square for a special announcement about a new condo in the city.

"It's a tremendous honour to announce our collaboration with Pharrell Williams," says Sheldon Fenton, President and Chief Executive Officer, Reserve Properties. "The partnership was born out of a desire to do something really unique for Toronto and architecture as a whole. We believe by bringing in a cultural icon with vision and ideation from outside the realm of real estate it will allow us to break the mold in terms of what has traditionally been done. The experience has been off the charts and beyond our expectations."

Williams addressed the crowd at Yonge-Dundas via multiple screens, announcing his collaboration with Reserve Properties and Westdale Properties. The new two-tower condo is called Untitled and it's located at Yonge and Eglinton.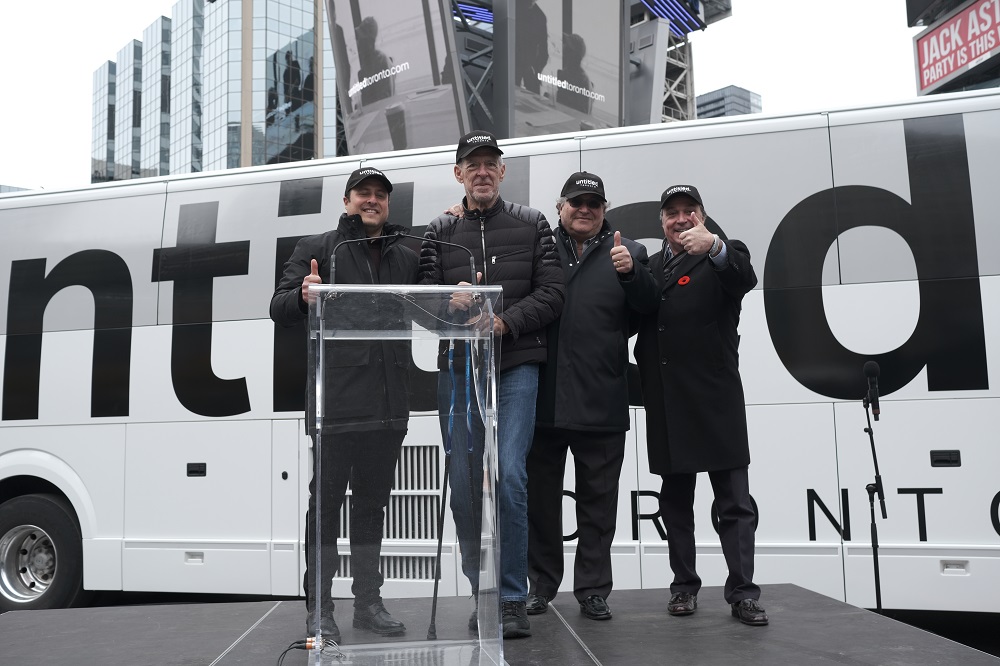 "The opportunity to apply my ideas and viewpoint to the new medium of physical structures has been amazing," says Williams. "Everyone at the table had a collective willingness to be open, to be pushed, to be prodded and poked, to get to that uncomfortable place of question mark, and to find out what was on the other side. The result is untitled and I'm very grateful and appreciative to have been a part of the process."

Architecture firm, IBI Group, and interior designers U31 worked closely with Williams over the course of many design meetings in New York, Los Angeles, and London. Williams has an extensive background in creative collaborations outside of music, including a long-time partnership with Adidas and Human Made, his work on the capsule collection with Chanel, work with Zaha Hadid Architects, and he's working on an upcoming Youth Centre in Virginia Beach. This is the first multi-residential development Williams has worked on.



"The thinking and philosophy that ended up governing the whole process was less about adding items and instead focusing on reducing and stripping away to get us to the essential core elements of the design," says Shane Fenton, Chief Operating Officer, Reserve Properties. "Pharrell pushed us towards designing spaces that felt universal. Instead of dictating a lifestyle onto our purchasers and residents, we aimed to create harmonious spaces that could serve as the backdrop to their lives. That lens was applied throughout the entire building until we ended up with something that felt both timeless and singular."

Untitled is expected to launch in early 2020, and there are 750 units between the two towers. Williams didn't make it out to Toronto for the big announcement, but word is he'll be attending the sales launch in the new year!