Reid's Heritage Homes is the first to complete a Net Zero Energy home in Canada!
By Lucas on Sep 15, 2015
(L-R) Blake Seeberger, Senior Vice-President, Residential, Reid's Heritage Homes; Bob Finnigan, First Vice-President, CHB;, Andy Goyda, Canadian Builder Lead and Market Development Manager, Owens Corning Canada; Tim Blevins, President, Reid's Heritage Homes; Cam Guthrie, Mayor, City of Guelph; Scott Reid, President, Reid's Heritage Properties; Ric McFadden, Canadian Building Materials Group Vice President and General Manager, Owens Corning Canada; Tony Vannelli, Dean of the College of Physical and Engineering Science, University of Guelph
Last week on Friday, September 11, 2015, Reid's Heritage Homes made history in Guelph. The industry opening of Canada's first Net Zero Energy home was hosted in Reid's Heritage Homes' Westminster Woods community, where four more Net Zero homes will eventually be built. Members of the homebuilding industry and municipality, as well as project partners were in attendance to celebrate the big day.  
"Guelph is thrilled to be the site of the first completed home in this groundbreaking initiative," said Cam Guthrie, Mayor of Guelph. "Congratulations to Reid's Heritage Homes, who continues to strengthen its well-deserved reputation as a leading builder across Canada."
There are a number of partners working on this national initiative, and Owens Corning Canada is spearheading to whole thing. "Today's achievement is the product of years of planning and hard work by some of Canada's brightest minds in the homebuilding industry," said Andy Goyda, Canadian Builder Lead and Marketing Development Manager, Owens Corning Canada. "We are proud to be a part of this project that is changing the way homes are built and that will allow more homeowners across the country to help insulate themselves from rising energy costs."
This first Net Zero home is part of a national demonstration project that aims to show how Net Zero homes can be built on a community level and actually be affordable for the everyday homebuyer. The reason that this is so exciting is because a Net Zero Energy home is a home that can produce as much energy as it consumes on an annual basis! In total, the project will feature 25 homes by five builders across Canada in Nova Scotia, Quebec, Alberta, and Ontario.
Blake Seeberger, Senior Vice-President of Residential, Reid's Heritage Homes
"Instead of building these homes as one-off, custom-built projects, this project is geared to the mainstream public, and the low-rise production builder," said Blake Seeberger, Senior Vice-President of Residential, Reid's Heritage Homes. "In fact, standing on the driveway facing the house, there is little indication that this is a real-world example of the future of housing."
Actually, the first thing we noticed when standing in front of the house was the Tesla parked in the driveway! A Tesla representative was present, promoting their vehicles, charging stations, and Powerwall battery storage, which Reid's Heritage Homes will be offering once it is available in Canada. While it wasn't a Tesla charging station, the Net Zero home did have an electric vehicle charging station in the garage.
From the exterior, the Net Zero home really is indistinguishable from the neighbouring homes. The rear of the home has 33 solar photovoltaic panels by Bluewater Energy on the roof, but there are a few other homes on the street that also have solar panels. Where you see the real difference is inside the home.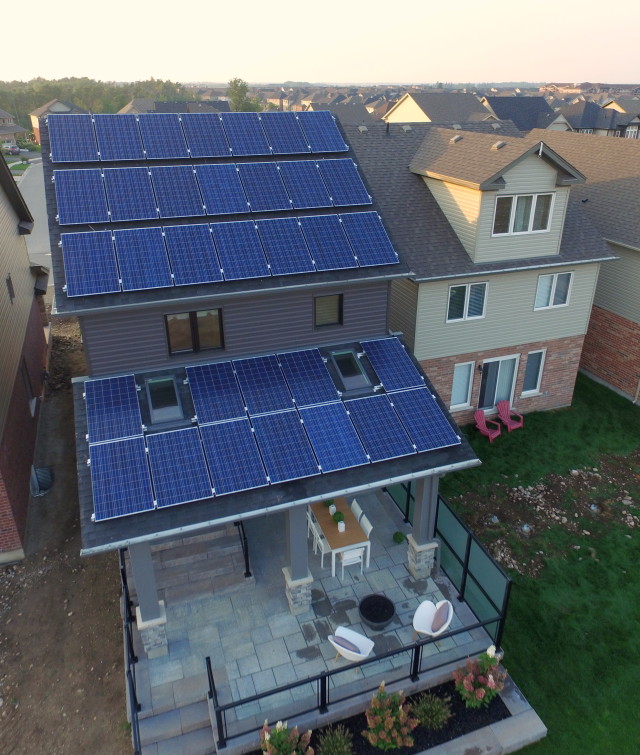 Even upon entry, you can tell that there is something different about the home based purely on the quality of the air. Owens Corning specializes in building high efficiency envelopes for maximum air tightness, using their CodeBord Air Barrier system. Before touring the home, Goyda explained that the first step to creating an energy efficient home is designing and constructing an air tight envelope, because if air is escaping, then it doesn't matter how much advanced mechanical you have in the basement.  
The interior of the home looks like any other high quality Reid's Heritage Homes product, except for the numerous touchscreen control panels on the wall where you can operate and monitor your home's energy usage. To see where the magic happens, you need to go into the basement (on the way down, you'll realize that the temperature of the home is consistent throughout). The basement features the latest air source heat pump space heating from Mitsubishi Electric, as well as a hybrid heat pump hot water tank from Rheem Canada.
"The path to Net Zero is about building better homes, sustaining a future for generations to come," said Tim Blevins, President, Reid's Heritage Homes. "This program has opened up the doors for great opportunities that we are all fortunate to be able to be a part of. We see the value in what this means and want to help others to step onto the next platform. We want to help consumers see the value. We also want to change the mindset of the entire building industry to embrace change and push for better building practices through time with partnerships with our industry experts and homebuilders associations."
Tim Blevins, President, Reid's Heritage Homes
Another very exciting announcement came from Reid's Heritage Homes at the event when Seeberger announced that: "All new single family home developments through Reid's Heritage Homes that begin launching in late 2016 and early 2017 will be Net Zero ready. I hope this inspires others to commit to this strategic initiative and see what the future holds for the customers, communities, and municipalities that we all serve."
The public grand opening of Reid's Heritage Homes' first Net Zero Energy home is on Saturday, September 19th, 2015. The home is located at 197 Goodwin Drive, Guelph. For more information about the home and its special features, visit LiveNetZero.com.