Concept Renderings for 2 Bloor West
By Lucas on Jul 10, 2013
It looks like another Yorkville site in Toronto is in for a huge redevelopment. The site we speak of is 2 Bloor St. West, which is directly at Yonge and Bloor. Oxford Properties owns the site, and architectsAlliance recently posted their concept renderings for what they proposed for  Toronto's most luxurious neighbourhood.
2 Bloor West design by architectsAlliance
architectsAlliance released some pretty impressive concept renderings for 2 Bloor West on their website.
The project would create over 1 million square feet of space, and feature two towers, sharing a seven-storey podium. One of the towers would rise from Bay and Cumberland and stand 70 storeys. The other tower would rise right at Yonge and Bloor, and reach 85 storeys.
The thing that stands out the most about the 2 Bloor West design is the interesting support system on the north and south facades of the podium. The diagonal support system would make a subtle, yet powerful impact on Toronto's skyline as it wraps up each of the towers.
It is important to note that these concepts were simply proposals, and not the direction that Oxford Properties chose to pursue. 
The history of 2 Bloor West
Oxford Properties has owned 2 Bloor West for a few years now, and they also own the 34-storey CIBC building that occupies the site. Oxford hasn't commented on what will become of the CIBC building, but they have every right to tear it down if they desire, but as stated, there is no official word on the building's fate.
Oxford Properties applied for a zoning approval back in January 2010, but pushback from local residents forced the proposal to the Ontario Municipal Board in its early stages, and renderings were never produced.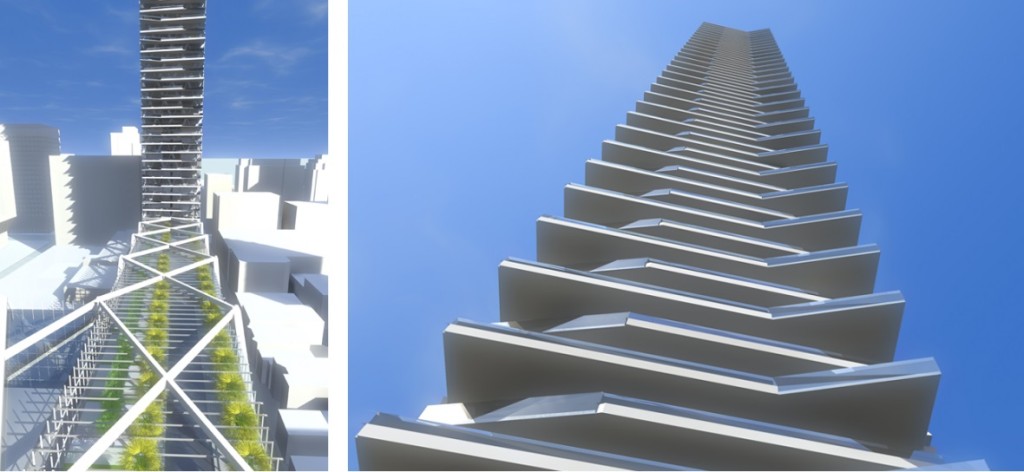 Oxford Properties' new direction
According to UrbanToronto, Oxford Properties has decided to go with a design by B+H Architects. What do you think of the design? Yonge and Bloor is a prestigious address, so the design of any buildings there should mirror that. We're quite fond of the design - it complements Toronto's modern-contemporary environment.
Image from UrbanToronto