Rogers Real Estate Development Limited unveils 10 towers for downtown Mississauga
By Lucas on Sep 27, 2016
Rogers Real Estate Development Limited officially announced their plans for M City, a master-planned residential community in downtown Mississauga. Edward Rogers, Deputy Chairman, Rogers Communications Inc. and Mississauga Mayor Bonnie Crombie announced the plans the morning of September 27th.
"Rogers Real Estate Development has put forward a bold, exciting and forward-looking vision for Mississauga's growing, thriving and promising downtown," says Crombie in a release. "These new planned developments by Rogers are consistent with the City of Mississauga's commitment to build a livable, walkable city, home to mixed-use residential and commercial developments that are connected to an extensive public transit network."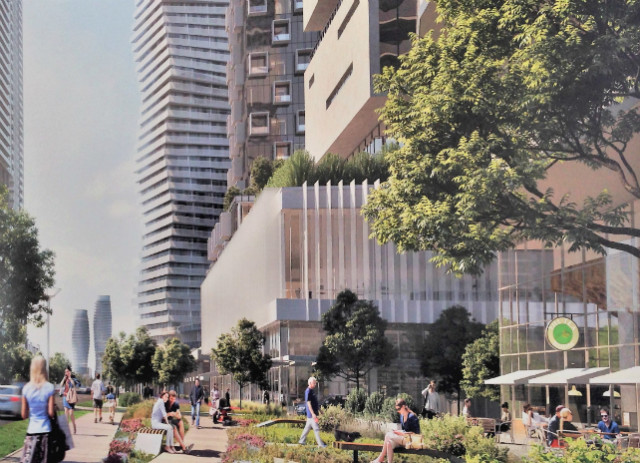 The site was originally purchased by the Rogers family for the installation of transmitters for one of Ted Rogers' first business ventures. Now, it's going to be home to 10 towers and a two-acre public park. Rogers Real Estate enlisted Urban Capital Property Group to manage the project.   
"Rogers has an enduring history with the City of Mississauga. We believe in the city and in the vision that was set forward in Downtown21," says Rogers. "With the help of Urban Capital and our development team, we aim to contribute to the evolution of Mississauga's downtown. M City will be anchored by iconic design, it will prioritize public spaces and parkland, and it will offer residents the best technology available now and into the future."
The 4.3 million square foot, 15-acre M City is a $1.5 billion investment in Mississauga's downtown, and it is the first major residential project by the Rogers family. The project has been in the works since 2007, and it is now fully approved.
Left to Right: Councillor John Kovac, Ward 4; Councillor Nando Iannicca, Ward 7; Mayor Bonnie Crombie, City of Mississauga; Edward Rogers, Deputy Chairman, Rogers Communications Inc.; Edward Sajecki, Commissioner of Plannning for the City of Mississauga; Mark Reeve, Partner Urban Capital; Donald Clinton, Partner Cooper Robertson.
"We took our time to make sure we got every last detail right," says Urban Capital Property Group Partner, Mark Reeve. "Downtown Mississauga is undergoing intense urbanization. Its citizens are young and ambitious and represent a diverse, urban culture. That is why Rogers chose the name M City. They wanted the project to reflect their enthusiasm for downtown. It's an enthusiasm that we share."
New York-based design firm Cooper Robertson designed the framework of M City. Firm partner, Donald Clinton was the lead designer. Based on the initial rendering, it looks like Mississauga's skyline is going to get even more interesting.  
"Mississauga is off to a great start in establishing its downtown core. You have an identifiable eastern gateway with the Absolute Towers as well as some great public spaces in the area like Celebration Square, City Hall and the Living Arts Centre," says Clinton. "The opportunity with M City was to define the western edge of downtown. That was our goal as we planned a walkable, sustainable mixed-use community that emphasizes the public realm."
CORE Architects designed the first tower, which will rise 51 storeys and complement the Absolute Towers with a repetitive floor plate rotation. The interior design will be conceived by award-winning firm, Cecconi Simone.  
"CORE's design is a stunning addition to Mississauga's skyline. Not only does it dialogue with celebrated architecture on the eastern end of downtown, but just as important is the way it interacts with the immediate streetscape. A lot of attention has been placed on the podium and how M City connects with its surroundings," says Reeve.
We are very excited about watching M City come to life. Mississauga already has two world renowned towers, so it looks like the city is reaching for world-class status.