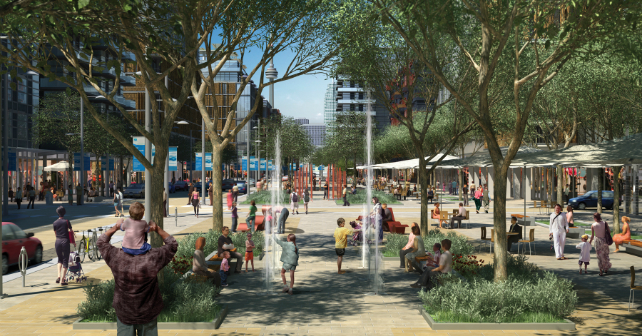 Selecting the Best of the Best for the Canary District
By Lucas on Apr 23, 2015
Dundee Kilmer and LiveWorkLearnPlay recently announced seven retailers that have been confirmed for the Canary District. With a focus on health and wellness, the retailers feature a range of offerings and services, from nutrition, to active apparel, to fitness programs. Since these seven retailers only take up a section of the designated retail space, we leapt at the opportunity to sit down with Jason Lester, President of Dundee Kilmer, and Rob Spanier, Partner & Principal of LiveWorkLearnPlay, to discuss the strategy behind curating a cohesive, dynamic retail environment.
Before jumping into how the retailers are selected, we wanted to know more about the health and wellness philosophy. "The overall vision started back in the winter of 2001 when we had to design, procure and finance the project," Lester explained. "The retail component is comparatively small, but it is one of the more critical points. Because of the two anchors, the YMCA and Corktown Common, which acts as a trailhead for hundreds of kilometers of parks going up the Don River or down to the Martin Goodman Trail, east to the Beaches or west to the Humber, plus the interim use of the games, we decided that health and wellness retail tenants would work very, very well."
Since Dundee Kilmer had a certain vision for the retail space, they couldn't simply put up a For Lease sign. That's why they teamed up with LiveWorkLearnPlay to search for the best combination of retail operators. "At LiveWorkLearnPlay, we have a division of our business called Targeted Leasing and Casting, and it's a proprietary approach to attracting tenancies to projects, and we focus predominantly on non-national, independent, best-in-class operators," Spanier said. "It's a very targeted and selective process to make sure we are marrying the development with the right operators."
This isn't the first time Dundee Kilmer has developed an area with a certain retail vision in mind. "Kudos to Jason for recognizing many years ago for the Distillery District a vision of arts and culture," Spanier continued. "This is a vision of health and wellness, and we are reinforcing this vision by curating each individual space. We determine what each space is used for, and how the synergies between the retailers would work together."
"They'll play off each other," Lester added. "Whether it's programming in unique situations or ongoing programs that will evolve as the community grows. It's going to be very exciting to see."
Selecting the right retailers for Canary District
But how is this accomplished? As Spanier mentioned, "This is something that Toronto has never really seen, holistically, come together as a neighbourhood. The great neighbourhoods of Toronto happened organically and over time. This is one opportunity to put together up to 40 great operators at once."
For the Canary District, LiveWorkLearnPlay is targeting mostly "mom and pop shops," which is basically anything independent and/or non-national. According to Spanier, the best of the best mom and pops are actually operating better than some of the largest national companies, just on a smaller scale.
When it comes to finding the right retailers for the community, Spanier and his team at LiveWorkLearnPlay have been asking operators the same four questions for the last 20 years: "Who are you? What is your concept? What's your experience? And what's your financial capacity?" About 20 interviews with different operators are conducted in order to choose just one retailer.
Spanier pointed out that it's very important that the operators have a fresh idea for their business that translates and meshes well within the vision for Canary District's retail environment. He used the Tabule Middle Eastern restaurant as an example. When LiveWorkLearnPlay approached owner Diana Sideris, she presented the idea of creating a more "on-the-go" experience with her Middle Eastern offerings. This is something new for Tabule, and something that LiveWorkLearnPlay thinks will be a great fit in the neighbourhood.
It's not just about services and offerings though. The design, look and feel of the retailer has to complement the neighbourhood and the other businesses. The operators also need to have a business plan for that specific location because LiveWorkLearnPlay wants to ensure that the businesses are all successful a decade down the road.
And it's not only about hard goods and soft goods, it's about having a place of comfort to be other than your home. Spanier said, "Look at The Running Room, it's a national company, but I've known John Stanton (founder) for over 10 years now, and he is one of the best national independent minded businesses out there, and they don't only sell shoes. They have the wolf pack who'll meet at Canary and run up the ravine and come back and have clinics. So it's not just about what you buy, but what you do."
The next announcement of retailers should be this fall. Lester and Spanier hinted at a space that combines the best aspects of a farmer's market, where you can get bread, eggs, cheese, fish and meat - the essentials. Perhaps that will be the next big announcement!
Progress at Canary District
The first phase of development in the Canary District has just under 46,000 square feet of retail space, enough for about 15 retailers. After the Pan Am/Parapan Am Games are complete and the other market condos are launched, there will be room for around 40 retailers in total.
Dundee Kilmer handed over the land to the Games organizers, TO2015, last February, and everything is being prepared for the athletes. The dining tent is up and furniture is being moved in. Each of the 41 countries participating will have their own office space. According to Lester, there has never been an Athlete's Village for the Games that is so well prepared this far in advance.
The land will be returned to Dundee Kilmer in September, at which point they will ready the buildings for its permanent uses. By March 31st, the YMCA, George Brown College Residence and two affordable rental buildings will be ready. Then in the first week of April 2016, the 800 condo units will be ready for occupancy. Later this fall and winter, the retail operators will be preparing their new locations so that they can be open for business when the first homeowners move into Canary District Condos and Canary Park.
We're really looking forward to seeing which other retailers Dundee Kilmer and LiveWorkLearnPlay select for the Canary District. Stay tuned - we'll be keeping a close eye on the master-planned community all year!