Stone & South in Gananoque is now under construction!
By Newinhomes on Jun 18, 2019
When you think of getting away for the weekend, you probably picture a cottage up north. After visiting Stone & South in Gananoque for the second time, we think you should be heading east.

Stone & South by CaraCo Group of Companies isn't just a weekend getaway. According to Mariah Hamilton, Sales Representative at Century 21 Limestone Realty Ltd., many buyers from the Greater Toronto Area are planning on living in Gananoque for six months of the year, and then elsewhere for the winter.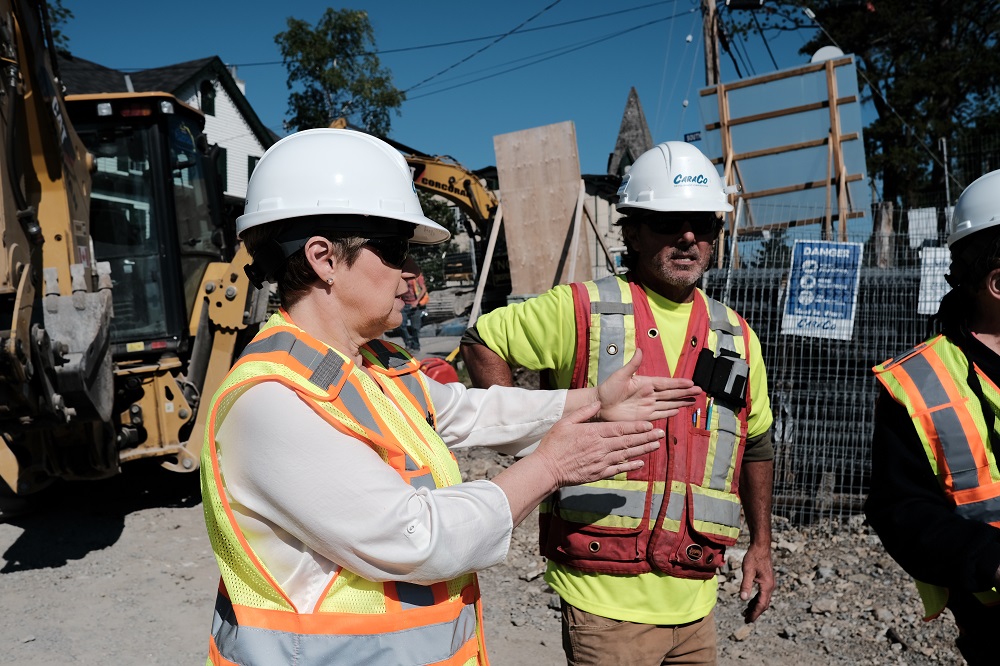 Mariah Hamilton (L) introducing us to the construction crew

"The people we have been attracting have been primarily from the GTA, secondarily from the Ottawa area, and the tertiary market would be the Kingston area and more north of Kingston," explained Hamilton. "And people are attracted to the water. Every suite has a view of the water, so everyone has this stunning south-facing view."

"We've been catering to a wide group of people, and we're attracting many who are pre- or post-retirement," she added. "Many buyers have an emotional connection to the area because of family or a cottage in the area, or they've been boating here. It's the perfect location between Toronto or Ottawa, or even Montreal where they may have family."



On our day-and-a-half visit, we had the pleasure of attending the new Thousand Islands Boat Museum, taking in a show at the Thousands Islands Playhouse, dining at Riva for dinner and Laverne's Eatery for lunch, and we went on a boat tour and bike tour. After experiencing the town from the water and on land, we can see why so many people are excited about Stone & South.

"Stone & South is a boutique, luxury community with a marina. There's nothing like this here, and it's actually very hard to have a boat slip in Gananoque," said Hamilton. Currently under construction, Stone & South is the only condo right on the water and is the only crane on the skyline. This area of the Saint Lawrence River is popular for boating enthusiasts, so coming across an available boat slip is rare. Living at Stone & South, you can have your own slip and never have to worry about a place to dock. The slips at the new condo accommodate 20' to 45' boats.



A few other amenities at Stone & South include an entertaining lounge with kitchen, dining, and a games room, an outdoor space with barbecues, a private off-leash dog area, a fitness centre, and a swimming dock. There's also storage for bikes, canoes and kayaks!

In June 2018 when we first visited the site, demolition had just completed. A year later, the marina is mostly complete and construction is well underway. CaraCo was working with a tight timeline at the beginning of the year because Wildlife and Fisheries restrictions prevented them from completing any work in the water from March 15 to May 15. Gennaro DiSanto, CEO CaraCo, explained that they wanted to get the marina work done before March 15 so that they didn't have to pause work for months.

Gennaro DiSanto (R) and wife, Maria Mancuso (Interior Designer at CaraCo)

"We broke ground in the dead of winter, and we were working on the seawall," DiSanto explained. "Interestingly, it was a cold winter and you may think that type of work would be difficult in the winter, but it was the ideal time to actually do it. It was amazing seeing ice all around and guys with heavy equipment on the ice doing the work. We were on a timeline and we made the deadline."

"We were under a lot of pressure to actually start in January," he added. "From a pre-planning point of view, getting all our trades lined up and our detailed designs done, it was challenging because if we were off by a couple weeks, we would lose the window and have to start and stop...you got to be impressed by all our consultants and trades that actually did the work."
Visit Stone & South as soon as possible
Now that the crane is up and construction is moving along smoothly, it won't be long before the remaining units are sold. Phase 1 is more than 90% sold and Phase 2 just started selling. Phase 1 occupancy is scheduled for spring 2020, and Phase 2 occupancy is scheduled for spring 2021.
The available suites at Stone & South range from 802 to 1,547 square feet with prices starting from $489,900 (prices include parking spot and storage locker).
For more information, visit the Stone & South presentation centre at 5 King St. East., Gananoque, Tuesday to Friday from 11 am to 5 pm or on the weekend from 12 pm to 5 pm. You can also call 613-876-2524 for more details.
We'd also like to extend a big thank you to the CaraCo team and everyone else in Gan for showing us what your amazing town is all about! Here are a few more photos from our trip: