The top 4 interior design trends of 2015
By Jo-Ann Capelaci on Dec 21, 2015
Was 2015 a good year for you? I am happy to say for me it may have been my best year yet! Below are our four top picks for the best interior design trends for 2015 and some tips on how to incorporate them into your home.
1) Geometric prints and patterns
Geometric and mixed patterns can provide visual texture and energy in a room. Notice in the picture below how the striking area rug acts as a focal point.
Via decoist.com
The geometric patterned feature wall pictured below adds interest to the room.
Via Inovah.com
The geometric shapes of the mirrors draws your attention and the reflection of the light makes this feature wall shine. The egg shaped accessories pop in to complete the scene.
Via home-reviews.com
We mixed and match textured finishes with white and blue accessories to create a visually interesting yet tranquil space at Williamsberg Estates' Anderson Enclave, seen below.
Williamsberg Estates, Anderson Enclave Great Room
Also, a new kitchen backsplash is a great opportunity to get creative! Notice the effective use of geometric pattern and colour below to create a playful and unexpected design.
Via Homedit.com
2) Vintage chic
Natural materials and industrial elements allow for warm and simple spaces. The purpose of the home being a relaxing haven and a place to ground oneself becomes the forefront of interior design once again.
The combination of woods and stone adds warmth to the space pictured below.
Via jazdecor.com
I love the exposed structural elements and rustic wall art. An effective combination of contemporary styling and rustic charm!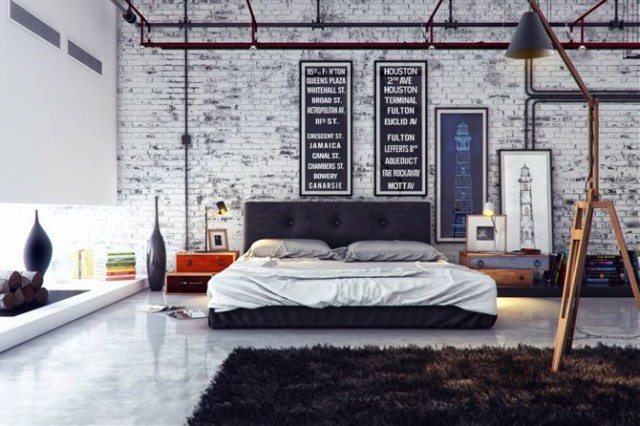 Via vintageindustrialstyle.com
Also, combining mirrors of varying shapes, woods and metals is an easy and effective way to add a vintage chic look in your space.
Via indecora.com
3) Mixing metallic finishes
I love this year's trend of mixing metallic finishes. It is a great way to incorporate antique golds with your existing brushed nickel. Golds, coppers and silvers have made a comeback, adding a luxurious yet refreshing lustre to any space.
Via loridennis.com
4) Jewel tones
Marsala is the 2015 Pantone Colour of the year!  
Blue hues just happen to be the perfect accent for Marsala. When placed together, the deep sea tones complement the earthy tone of Marsala, and a vibrant yellow or green add gem-like features.
Via decoist.com
Another effective way to incorporate Marsala into your decor is to combine it with silvers and grays. Note how the Marsala rug mixed in alongside silvers and greys anchor this space.
Via Zillow.com
If you would like to incorporate a little Marsala without making a big commitment like purchasing furniture or area rugs, then try adding a pop of colour like in the floral bouquet pictured below.
Via marylousobel.com
Look for these and more 2015 design trends on our Pinterest board!
More new and exciting ideas, tips and trends will follow in 2016, so stay tuned and look for future blog posts! Cheers!
Jo-Ann Capelaci is president and principal interior designer of Colours & Concepts. The award winning company specializes in model homes and colour and upgrade selections for builders. They have been helping new home buyers choose finishes for their homes for over 20 years. Jo-Ann is dedicated to helping new home buyers create a model home feeling in their new home. Look for future articles on other topics to assist in decorating and designing your new home.