This is How Yorkville Went From Folk to Fortune
By Jen Taylor on Apr 14, 2015
After taking a peek at the layered history of the St. Lawrence Market, we now move north to delve into the colourful history of Yorkville, which has undergone several transformations throughout its relatively short story. The neighbourhood humbly began as a village on the outskirts of Toronto, eventually evolving into a bohemian enclave, and finally transitioning into a business and luxury shopping district. Yorkville is now known as "Mink Mile," one of the most expensive streets in the world. How did a small village transition into a luxury shopping destination? The best place to start is at the beginning.
Map of Yorkville - 1878 - via torontopubliclibrary.ca
1800s: Bricks and Brews
The neighbourhood was originally founded in the 1830s by local brewer Joseph Bloor and Sheriff Botsford Jarvis for individuals looking to escape the city's polluted air. Together, Bloor and Jarvis purchased land just outside the limits of Toronto, subdivided it into lots, and established a small community. By 1853, Yorkville was officially incorporated as a village and named after the City of Toronto's original title, the Town of York.
Mulock, sir William house - 1932 - via torontopubliclibrary.ca
The area was home to two main industries - the brickworks and the breweries. The Yorkville Brickyards were responsible for the neighbourhood's famous yellow brick homes as well as the Yorkville Fire Hall, which still stands today on Yorkville Avenue. Evidence of the brickyard's yellowish-white bricks can also be seen at St. Michael's Cathedral, St. Lawrence Hall, and University College. The village was home to two breweries, one of which was Severn Brewery on Yonge Street. It produced up to 200,000 gallons of beer annually.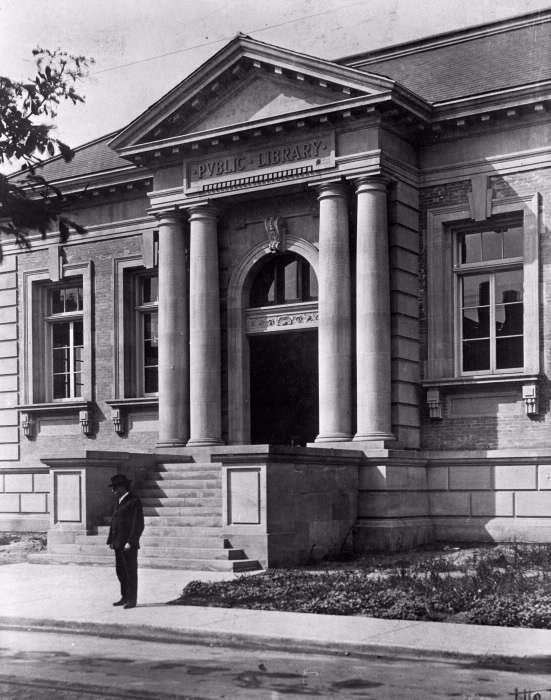 Toronto Public Library, Yorkville Branch - 1907 - via torontopubliclibrary.ca
By the 1880s, the suburb was thriving and characterized by Victorian-style homes, quiet streets, and large gardens. However, the cost of keeping services running was beyond the Village of Yorkville's capacity, and in 1883 Yorkville became the first village annexed by the City of Toronto. At this time, Toronto's original Mount Sinai Hospital was opened in the historical building currently occupied by Teatro Verde (it would later move to University Avenue in 1953).
Yonge St. Subway, Rosedale Station - 1952 - via torontopubliclibrary.ca
As the City of Toronto continued to grow steadily, plans for a subway system started to take shape, and in the 1950s Toronto began construction on the Bloor subway line. In order to complete construction, the city decided to demolish a row of Yorkville's original Victorian houses. Residents of Yorkville campaigned to replace the resulting vacant lot with a park, but the City decided to build a parking lot to service the city's growing number of commuters. This event is referenced in Joni Mitchell's infamous song Big Yellow Taxi, in which she laments that they "paved paradise and put up a parking lot." Later, in 1973, the City finally agreed to build a park, and in 1991 the City hosted a design competition calling on local residents and professionals to submit proposals. The infamous Village of Yorkville Park, with its large granite rock and gardens was born.
1960s: Bohemian Enclave
By the 1960s, Yorkville had become the Canadian counterpart to New York City's Greenwich Village, and the neighbourhood served as a bohemian enclave and a breeding ground for some of Canada's greatest musical and literary talent. Yorkville was home to over 40 clubs, coffee houses, and galleries featuring live music, controversial art, and antithetical thought. The neighbourhood's proximity to the University of Toronto also fostered a countercultural spirit, and prominent thinkers and writers such as Margaret Atwood and John Robert Colombo could be found doing readings at the local Bohemian Embassy.
Before gaining a reputation as one of Toronto's elite shopping neighbourhoods, Yorkville was known as the "music mecca of Canada" and the epicentre of Canada's folk music scene. Infamous coffee houses including the Purple Onion, The Mynah Bird, and The Riverboat served as the first stages for a number of musical acts and helped launch the careers of many Canadian musicians including Gordon Lightfoot, Joni Mitchell, Neil Young, Steppenwolf, and Murray McLauchlan. The Riverboat was Canada's most famous coffee house, while Chez Monique and Village Corner also drew crowds. Joni Mitchell and Leonard Cohen both got their start at the Penny Farthing, which featured a swimming pool and bikini-clad waitresses, while The Mynah Bird coffee house at 114 Yorkville Avenue inspired the band name The Mynah Birds, which featured both Neil Young and Rick James.
Yorkville's reputation as a free-spirited neighbourhood and bohemian enclave spread quickly, attracting hoards of tourists and their cars. The neighbourhood's local residents began protesting the automobile congestion and sought a ban on cars on Yorkville Avenue. The protest eventually evolved into a "love-in" at Queen's Park on May 22, 1967. Over 4,200 people also showed up for a three-day "sit in" on Yorkville Avenue that led to clashes with police and 61 arrests. The neighbourhood's residents eventually resorted to sleep-ins in Nathan Phillips Square in order to attract the Mayor's attention and raise awareness.
Unfortunately, the City was not sympathetic. The neighbourhood was referred to as a "festering sore" by the MPP Syl Apps, and the City Council eventually decided to set up a police presence in the neighbourhood to quell countercultural activity. A 10 pm curfew for under-18s was introduced and a police foot patrol was established. It was at this time that Yorkville began to transition from a breeding ground for Canadian music and literary talent, to a high-end shopping destination.
In the late 1960s, developers began buying up Yorkville's decaying properties at low prices. Figures like Richard Wookey took advantage of low market prices and built many of Yorkville's recognizable structures including the Hazelton Lanes shopping centre.
Yorkville neighbourhood in Toronto
1980s: Bourgeois Boutiques
In the 1980s, the Bloor-Yorkville area began attracting high-end businesses such as Holt Renfrew, international designer brands, boutiques, and first class art galleries. Gentrification was in full swing and the neighbourhood soon became known as "Mink Mile." This is when the condominium trend took hold of Yorkville, and several residences sprouted at Bay and Bloor. Though the economic slump in the early '90s slowed construction temporarily, the trend remains in full swing today.
Minto is currently developing Yorkville Park, a geometrically unique luxury condominium with a gold-adorned lobby and a rooftop lounge overlooking the neighbourhood. Just down the street from Whole Foods and Hazelton Lanes, Camrost-Felcorp's Yorkville Plaza II is in the works, a 40-storey tower featuring a waterfall, artwork by internationally renowned sculptors, and an elegant spa.
Via Mizrahi
Across the neighbourhood, the boutique firm Mizrahi Developments is planning The ONE at one of Toronto's busiest intersections, Yonge and Bloor. This 80-storey proposal has won over locals with its interesting design. Another development is 1 Yorkville by Bazis and Plaza, a soaring contemporary tower wrapped in metallic ribbons designed to create a glittering effect.
Standing just steps away from the neighbourhood's historical Yorkville Library and Fire Hall, the condominium visually signifies how far Yorkville has come from its humble Victorian suburban beginnings, and serves as a reminder of the neighbourhood's colourful history.
Feature image via www.torontopubliclibrary.ca