Toronto Green Homes Summit: Raising awareness about sustainable building in Ontario
By Lucas on Feb 09, 2015
(L-R) Chris Higgins, Green Building Planner & Policy Analyst, City of Vancouver; Michael Parker, Board Chair of the CaGBC-GTC; Dana Sperling, Education Manager, CaGBC-GTC; Patsy Duffy, Executive Director, Sustainable Housing Foundation; John Bell, Board Chair, Sustainable Housing Foundation
The Newinhomes.com team recently had the pleasure of attending the first official Green Homes Summit by the
Canada Green Building Council – Greater Toronto Chapter (CaGBC - GTC)
. Members of the industry from a variety of areas of expertise were in attendance, including builders and developers, marketers, consultants, architects, interior designers, councillors, and real estate agents.The focus of the Green Homes Summit was on how to properly build sustainable communities, and perhaps more importantly, how to communicate the value of sustainable homes to potential homebuyers. The Summit kicked off with a keynote address from Chris Higgins, a Green Building Planner & Policy Analyst for the City of Vancouver. Higgins presented Vancouver's Greenest City plan, showing how the city is working with
builders and developers
to build a sustainable future.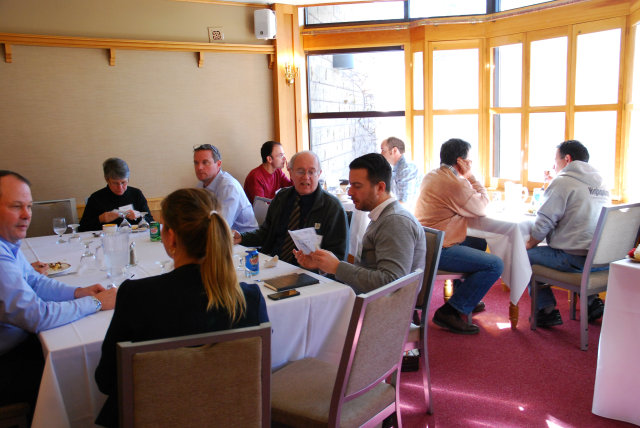 Participants enjoying the opportunity to network over lunch
Toronto vs. Vancouver  
By 2020, Vancouver wants to be the greenest city in the world. They hope to accomplish this by establishing a 10-year envelope goal, creating non-dollar incentives for builders and developers, and gradually improving their building code over the next few years. Higgins stressed that approaching sustainable building as a non-partisan issue and reaching out for public engagement are very important to the process of creating a green building mentality.Vancouver's plan has three major objectives: Zero Carbon, Zero Waste, and Healthy Ecosystems. Since we're talking about building, their focus is on the Zero Carbon objective. Approximately 55% of Vancouver's greenhouse gas emissions are from construction, especially multi-unit residential buildings (MURBs). The City of Vancouver analyzed European cities that have had success lowering their emissions (Denmark, Belgium, Netherlands, Germany, and Norway) and mimicked a few of their strategies. After analyzing these European cities, they decided that they needed to reduce energy demands from building envelopes, shift to more efficient mechanical energy supply, and use rezoning policies to force builders and developers to be more innovative with their new communities.A major part of Vancouver's plan is the envelope-focused code. The building envelope is where there would be the most impact when it comes to building more energy efficient homes. Figuring out the best way to upgrade envelopes makes sense because it offers long term solutions, it's reliable and affordable, it decreases carrying costs, the homebuyer experiences the biggest comfort gains, and it even improves the economy by maximizing local jobs. Since Vancouver's plan was initiated in 2007, green building and construction jobs have increased by 50% (around 4,500).Since 1990, Vancouver's population has jumped 32% and jobs have increased 28%, but greenhouse gas emissions have decreased by 6%. Typically, the more people there are and the more manufacturing jobs needed, the more greenhouse gases are emitted. It seems that Vancouver is on to something! The only areas where Toronto outdoes Vancouver is in Energy Star Ratings and air tightness - and we should be very proud of both. 12% of new homes in the GTA are Energy Star Rated, and the program has only just started in Vancouver. And, air tightness is key because double glazed windows and all the other fancy gadgets don't mean a thing if air is still escaping the home.
Participants enjoying the opportunity to network over lunch
Green building and the role of municipalities   
A major difference between Vancouver and Toronto is that Vancouver has its own Building Code. Builders and developers in Toronto need to satisfy the needs of a bunch of different municipalities as well as the Ontario Building Code. So, in our province, it's very important for municipalities to harmonize their standards. But how do municipalities decide what best suits their communities, and then how do they communicate that to other municipalities?Amy Burke of the Municipality of Clarington presented at the Summit, showcasing the elaborate case study they conducted to figure out how to approach green home building in their area. There are four urban areas in Clarington, where 80% of the population lives. The other 20% live in rural areas. The majority of the housing is single-family, but Burke says that high density housing is on the way.Clarington partnered with three different builders to create the Green Demonstration Project. Brookfield Residential, Halminen Homes, and Jeffery Homes built two homes each, reaching Better Than Code (BTC) ratings (discussed below). People moved into each home and now Clarington is awaiting feedback. While the people live in the BTC homes, their energy use is being measured. At the end of the project, Clarington will have a clear view of what homebuyers expect from a home, which green features made the biggest lifestyle difference, and builders will also have a better understanding of what is expected when building in this region.Burke explained that the green feature upgrades differed from home to home, but averaged between $5,000 and $10,000. The GTA is a unique pocket of Southern Ontario, with terrain, lifestyles, and demographics varying dramatically from region to region. It would be interesting to see more municipalities teaming up and partnering with builders to conduct their own Green Demonstration Projects. Then municipalities would have a set list of requirements that builders need to meet.BTC is Sustainable Housing Foundation's solution to the confusion caused by a myriad of third party green labels, the most common being Energy Star, EnerGuide, Greenhouse, and LEED. BTC uses the HERS Index to measure the energy efficiency of a home. The HERS Index is basically the only rating system in the US (for six-storeys or under), so it's easy to understand how energy efficient a home is south of the border because builders just advertise the HERS score. Currently, you can't search for new homes on MLS or anywhere else with keywords like "solar panels" or "air tightness rating." When will builders and the industry start including energy efficiency ratings in their listings along with price, square footage, and number of bedrooms? Selecting a common way to rate the homes in the industry and then putting the ratings at the forefront, as important as the square footage, would put energy efficiency on the list of things for homebuyers to consider when purchasing.
Open Forum Panel (L-R) Andrew Peel, Peel Passive House Consulting; Andy Oding, Building Knowledge; Brian Kelly, Region of Durham; Chris Chopik, Sage Real Estate; John Amardeil, BAM Creative; Lou Bada, Starlane Homes; Lenard Hart, Summerhill Group
How can builders sell green homes?
Here are the three most common mistakes discussed at the Summit that builders make when trying to sell a home with sustainable features: They focus on technology too much, they include green features as upgrades, and they target niche demographics.During the open forum panel discussion, Andy Oding of Building Knowledge stated it pretty clearly that builders' language needs to change. For example, what is R50 insulation? What does VOC mean? Thermoplastic plumbing and ABS drains? What's an energy efficient HVAC? These things may be well understood throughout the industry, but the average purchaser doesn't understand what they mean, and when builders offer green features as upgrades, homebuyers don't understand why it's worth it in the long run to pay more initially. Rather than throwing a bunch of technical mumbo jumbo into a list of upgrades, simpler terms like energy efficient air conditioning, water efficient toilets, and premium quality filtered water might make more sense.The mistake of targeting particular demographics with green upgrades is also a common mistake, according to the speakers at the Summit. It's believed that only young homebuyers are concerned about the environment, but sustainability shouldn't be about trying to appeal to a certain buyer, it should be about building better quality homes for everyone, which leads to the third common mistake of offering the environmentally-friendly features as upgrades.After a whole day of exploring different approaches to promoting sustainability to homebuyers, what it all came down to was what kind of builder you want to be. An environmentally conscious and responsible builder understands that building sustainable communities is the right thing to do, so trying to sell it shouldn't be an issue. Just do it. Build homes with green features as standard. They shouldn't even be called "green features" anymore, it should just be how you build a home. When building a $600,000 home, $5,000 to $10,000 of environmentally-friendly features isn't a lot of money, and if the sales staff is trained to explain the lifestyle benefits of these features and the long term savings from lower utility costs, then the builder will quickly establish a reputation for responsible building, and that's what matters in the end.Raising the demand for sustainability isn't a marketing issue. It shouldn't even be an issue. It should just be done.
This event was sponsored by: Sustainable Housing Foundation (Title Sponsor)Enbridge (Gold Sponsor)Building Products of Canada Corp., CMHC, Dow, Henry Blueskin (Silver Sponsors)
Toronto and Region Conservation Authority (Partner)