Trailwoods in Thornbury is now open and selling quickly!
By Lucas on Apr 29, 2016
Ever since last summer when Reid's Heritage Homes opened the designer decorated model home at Trailwoods in Thornbury, anticipation has been building for the new community. Well, we've just received word that the community is now open and the lots have been selling quickly!
Trailwoods features a selection of detached bungalows on spacious 80' garden lots. The available plans are all two-bedrooms, ranging from 1,510 to 1,939 square feet, with two or 2.5 bathrooms. Some of the standout features and finishes include natural gas fireplaces, granite countertops, ceramic tile, hardwood flooring, and five-appliance packages (fridge, stove, dishwasher, washer and dryer).
Like all Reid's Heritage Homes' communities, the homes of Trailwoods are energy efficient. Every home in the community is ENERGY STAR qualified, which means that they are at least 20% more energy efficient than what the Ontario Building Code requires. This is better for the environment and will save you money in the long run!
We're not surprised that Trailwoods opened with great success. The stunning model home showcases The Foxfire, a 1,629 square foot, two-bedroom plan with a welcoming front porch, columns, beautiful stone detailing, and barn-style garage doors. The kitchen features an island large enough to comfortably seat three people, and the large windows allow in an abundance of natural sunlight.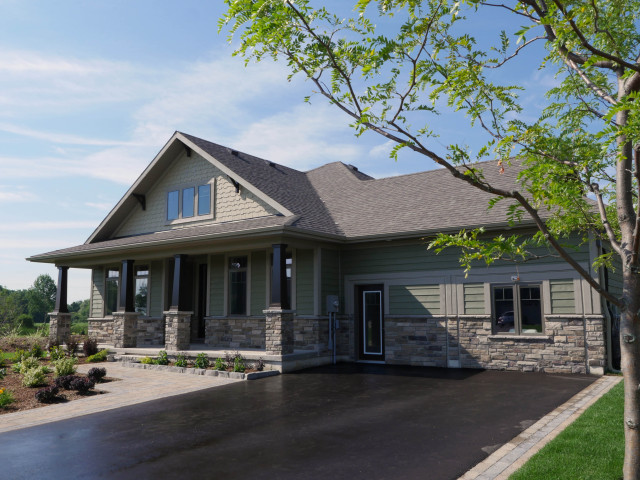 The four-season lifestyle
It's a good thing that the homes of Trailwoods are ENERGY STAR qualified and have large windows and spacious lots because the surrounding area is breathtaking. Located north of Highway 26, next to Lora Bay Golf Club, Trailwoods is nestled among rolling hills and forest, minutes from the shore of Georgian Bay.
If you're a golfer, you will really appreciate the one-season membership at Lora Bay Golf Club that you can opt into with no charge when you purchase your new home at Trailwoods. The one-season membership applies to two people in the household (the membership adds no value to the purchase price).
The scenic Georgian Trail provides kilometres of terrain for cycling, hiking, and jogging. Blue Mountain village and resort is only 10 minutes from Trailwoods, so skiing and snowboarding are always options during the winter. Due to the ideal location between Georgian Bay and the Niagara Escarpment, the growing season in Thornbury is longer than usual, so it is recognized as one of the largest apple growing regions in Ontario.
In addition to the lush conservation areas and other outdoor recreation opportunities, Trailwoods is within close proximity to downtown Thornbury, which offers a charming atmosphere and many convenient amenities. At Trailwoods, you're only minutes from a wide selection of restaurants, cafes, shops, and spas.
Visit Trailwoods in Thornbury today!   
Now that Trailwoods is open, you need to visit the sales centre and model home as soon as possible. Reid's Heritage Homes has reported that the bungalows are selling quickly due to the amazing location, distinct home designs, and spacious 80' lots. Empty nesters and retirees looking for the country lifestyle have shown a lot of interest.
The sales centre and model home are located at 175 High Bluff Lane and is open Monday, Thursday, Friday, and on the weekend from 12 pm to 5 pm. Prices start from $544,900.
For more information about the available detached bungalows, call 1-226-665-0109 or visit ReidsHeritageHomes.com.