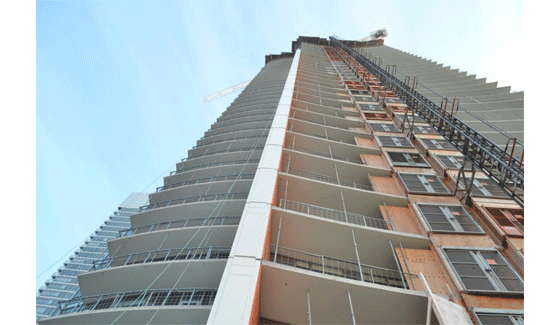 A Trip to Cinema Tower!
By Lucas on Nov 21, 2012
On November 21st, we headed to the corner of Widmer and Adelaide to check on the progress at one of our favourite Toronto condominium projects, Cinema Tower. We were met by Sam Tassone, Vice-President of The Daniels Corporation, Simona Annibale, Vice-President of Marketing at Daniels, along with Ingrid Grittani, Senior Project Manager.
Grittani explained, "We have a residential tower, with residential suites sitting at the seventh floor, sitting above the parking podium. On the ground floor, we will have a large retail space that is going to be home to a restaurant, a space dedicated to Artscape, plus an interesting art piece that should be very striking once it's complete."
Grittani continued, "The process is a very meticulous one. We walk our trades through each unit, ensuring that each finish is up to our standards. We look at the placement of lights, the placement of switches, make any necessary changes, and communicate to our trades exactly what the standards are, and what each unit should look like. It's a process that we have seen great success with in the past, and will continue to do so in the future."
Cinema Tower is well under construction, with the glass cladding gradually making its way up the facades. Reaching 43 storeys from atop a massive six-storey podium, Cinema Tower boasts a simple, yet modern design, with a slight concave curve on the north face, which distinguishes it from its neighbouring buildings.
Tassone explained, "We are currently doing better than a floor a week. We are actually averaging a floor every three days. To facilitate that, we utilized a power crane. We also brought in a high-powered concrete pump. Literally, we pump the concrete from grade, right up to the top. It allowed us to save time without sacrificing on quality. It costs more, but for us, it's worth it."
"You don't get on Tarion's top three list year after year by cutting corners. We owe a debt to our customers. Our purchasers get one opportunity to form an opinion about us, the suite that we build and the product that we provide. We don't get a redo. We don't take any comfort out of saying that we got 99 out of 100 right. With that one purchaser, we may have blown their dreams. Therefore, we need to bring that high standard approach to building. We don't want to let any of our purchasers down, and we will do whatever it takes to hit that goal," Tassone continued.
There are 444 units at Cinema Tower, ranging from 421 to 1,503 square feet, with floorplans spanning from studios to three-bedrooms. These sizes do not include the outdoor space provided by balconies, which every unit has – some of the balconies even wrap around the edges of Cinema Tower.  Some of the spectacular interior features and finishes include nine-foot ceilings in principal rooms, engineered wood flooring, porcelain tiling, Irpinia-designed flat slab paneled kitchen cabinetry, quartz countertops, and frameless showers and decorative vanity mirrors in the elegant bathrooms.
For more information, head on out to 21 Widmer St. and check out progress for yourself! While you're there, drop by the sales centre and learn all about what life at Cinema Tower will be like!
For a complete tour of Cinema Tower, head on over to our Facebook page and check out all the photos!