Walkability: Niagara - 95
By Lucas on Apr 03, 2014
For our very first Walkability feature of 2014, we visited the Niagara neighbourhood, one of Toronto's most popular up-and-coming areas.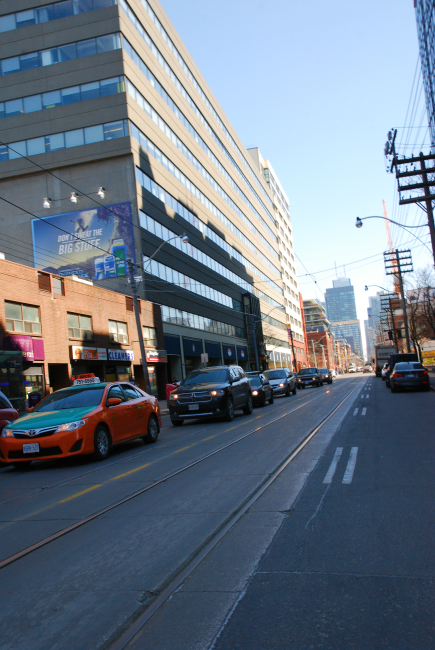 Niagara on WalkScore.com
As we discovered last year, it is difficult to define the borders of most of Toronto's neighbourhoods. There are so many of them and they kind of blend together near the edges.
For the purpose of this neighbourhood feature, Niagara's borders will be Bathurst Street on the east side, Queen Street West to the north, Shaw Street to the west, and Wellington Street West along the south.
On WalkScore.com, the heart of Niagara, Adelaide Street West and Niagara Street, scores a 95! This score categorizes Niagara as a "Walker's Paradise," meaning that "daily errands do not require a car."
Niagara also boasts a score of 100 for transit, which is based on the variety of transit options, the frequency, and the number of transit stops. With the Bathurst Streetcar, King Streetcar, and Queen Streetcar wrapping around Niagara, there is no doubt that the neighbourhood makes the dream of car-free living a reality.
The amenities of Niagara
The great thing about Niagara is that it has something for everyone; whether you're a young, single professional exploding on the business scene, newlyweds in search of your first home together, a blossoming artist, or a family.
Looking for a quick bite? Stop in at Subway, Tim Hortons, or McDonalds. Keeping it healthy, trying to support the little guy? Check out Wagamama Pastries and Cafe or Delysees, a fantastic authentic french bakery. You can also head up to Queen and grab a seat at any one of the numerous pubs and independent eateries.
We have a feeling you will also love the great shopping options in and around the Niagara neighbourhood. Local fashion boutiques pepper the area, as well as chain retailers and specialty shops, like Zane, a trendy women's accessories store.
Downtown neighbourhoods don't always offer the best school options, but Niagara has a great selection, including Niagara Street Junior Public School, Saint Mary Catholic School, and Discovering Minds Montessori.
As for green space, Niagara is surrounded by parks and parkettes, and Stanley Park is located right in the heart of the neighbourhood. It's the perfect place to bring the dog, enjoy the sun, and maybe even throw a frisbee around. Oh, and dog owners with full-time jobs, don't worry, Spaw is a great daycare/boutique that employs some of the city's best dog care providers.
New home developments in and around Niagara
243 Niagara - Concept Lofts Developments - Preconstruction
DNA 3 - Canderel Residential - Construction
Minto775 King West - Minto - Complete
This is just a sample of the many new home developments currently underway in the Niagara neighbourhood of Toronto. The area already scores so high, so we are very excited to see how it improves upon the completion of all these exciting developments.