Watch a construction time lapse of The Craftsman by VANDYK
By Newinhomes on Jan 08, 2018
Recently, VANDYK released an amazing construction time lapse video of progress at The Craftsman, their highly successful, sold out boutique condo in Mississauga.
The time lapse documents construction progress from February 2016 to August 2017. Since then, the full building topping off has been completed.
The erection of exterior walls and associated finishes is in full swing as well as the insuite and common area mechanical and electrical rough-ins. The painting and lighting to the parking levels is complete.
Insuite construction has commenced from the west wing moving towards the east wing with interior suite finishing well under way including delivery of kitchens to the west wing first floor this past December. Construction is moving along smoothly and occupancy is scheduled for later this year!
The Craftsman is an exciting project for VANDYK in Mississauga as it really raises the bar of design excellence thanks to the intriguing contemporary style. Inspired by Frank Lloyd Wright and the Arts and Crafts architectural movement, The Craftsman features dramatic horizontal lines, warm wood colours, and stone and masonry facades.
"Rarely has a new condominium residence fit so naturally into an established neighbourhood as The Craftsman," says a VANDYK blog post. "Following Wright's philosophy of harmonizing with the natural habitat and not disturbing the environment, the building was designed to work with the grade of the land, with 2 sections of the residence being four storeys and one being five. The wide, midrise profile of the building makes it appear to almost nestle into its leafy setting of Birchwood Park."
There is also a collection of hotel inspired building amenities including social spaces, a fitness facility, courtyards, and a spacious rooftop terrace. The Craftsman residents will truly enjoy these spaces designed to accentuate and improve their social lives and health and wellness.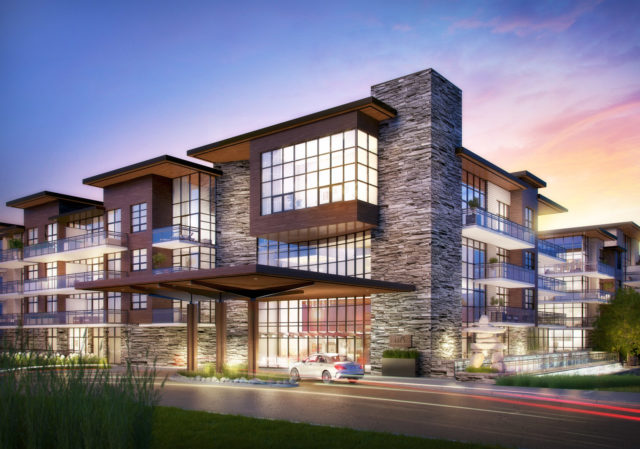 Stay tuned for more from VANDYK
At the end of last year, we shared some info about the available townhomes at UPtowns in the Heart Lake neighbourhood in Brampton.
VANDYK recently let us know that Phase 2 of UPtowns is on the way, so stay tuned for more information about the upcoming release!