Description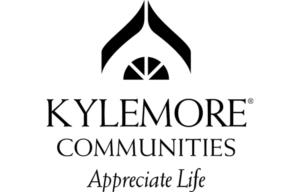 Since 1997, under the leadership of President Patrick O'Hanlon and Vice President Frank Spaziani Kylemore Communities has established a reputation for being an industry innovator and builder of superior quality homes and highly desirable neighbourhoods.
To fully understand the company's history it is important to look at its past. In the late 1950s mining entrepreneur and avid golfer Arthur Stollery owned the farmland known as Angus Glen in Markham, Ontario. Arthur Stollery's golf course dream was completed in 1995 by his son Gordon, who also had the foresight to imagine a residential community cradling the Angus Glen fairways. To bring his vision to life, he sought out Patrick O'Hanlon and Frank Spaziani, who had by that time honed their expertise with some of the Greater Toronto Area's largest building companies. The master-plan for Angus Glen was designed along new urbanism planning principles.
Angus Glen Community surrounds the championship 36-hole Angus Glen Golf Club, host venue of the 2015 Pan American Games. Over the past 15 years Kylemore Communities has built over 1,000 homes in a variety of architecturally controlled styles from elegant townhomes and executive detached homes, to a collection of inspired custom homes. In November 2013, construction began on The 6th boutique condominium overlooking the golf course. More recently, new restaurants, services and a Montessori school have opened in the Shoppes of Angus Glen.
Kylemore's commitment to create neighbourhoods for all ages and life stages is a strategy of community building that has proven very successful. Angus Glen homeowners testify to having benefited from their home's appreciation above market levels. In 2013, Angus Glen Community received the "Places to Grow, Community of the Year" Award from the Building Industry and Land Development Association. (BILD)
Communities
Kylemore Communities
4500 Major Mackenzie Drive East, Markham, L6C 0G6
Condo